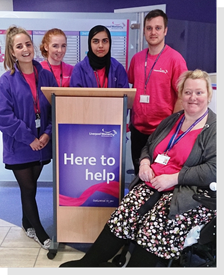 MEET AND GREET
Can you spare 4 hours each week, are you enthusiastic, eager to help others, aged between 16 and 100+ and have good communication skills? Yes! Then we would love you to join our Volunteer Meet and Greet Service at the Liverpool Women's Hospital.
The Meet and Greet service core hours are: Monday to Friday, between 9am and 5pm.
The majority of our volunteering opportunities are subject to medical clearance, DBS check and two references. The recruitment process can usually takes between 1-3 months to complete; therefore we can only consider applications from individuals who intend to volunteer for a minimum of 6 months.
First thing to do is attend a Group Informal Chat. At these group sessions we talk about volunteering at Liverpool Women's Hospital, and what qualities and skills you could bring to enhance our patients' and visitors' journey, along with what you hope to gain from the experience.
To book a place on a Group Informal Chat and for more information:
Telephone/Text 07773621381 / 07971105745
E-mail volunteers@lwh.nhs.uk