Kathryn Thomson, Chief Executive, 13th June 2017
What another incredible series of One Born Every Minute is proving to be. I have been tuning in each week to watch the wonderful work of our staff and it has made me so proud. You saw last week Mum and Midwife, Sarah welcome her twins into the world with her Mum, Pat who is also a midwife at Liverpool Women's. Seeing them together as a family was heartening, and emphasises the extent to which the work our staff do touches and reaches generation after generation.
It has been an extremely challenging year (2016/17) at Liverpool Women's but with so many reasons to be proud, as always our staff have remained firmly focused on providing a safe and excellent service, delivered in a friendly and caring environment.
We recently received the national inpatient survey results and I was delighted to see Liverpool Women's appearing 'better' than other Trusts and in the overall top 10 for most questions. Our patients rated that they were happy with the admission process, feeling they wait the right amount of time with a smooth transaction between services. They feel confident and have trust in the doctors and nurses treating them, feeling they are able to ask questions and are responded to in an appropriate manner. This is an outstanding achievement that reflects the hard work and dedication of our staff to providing the very best care to our women and their families. Thank you to those who took part, sharing their views and experience, it is appreciated.
That leads me on to talk about the Operational Plan, each year the Trust is required to produce an Operational Plan for the year ahead, as we look to 2017/18 we also wanted to look back on the last year, the achievements of our staff and the effort and commitment they give each and every day.
I am extremely proud – but not surprised – to see the various achievements, quality of care, and dedication that has been demonstrated. This has led to us capturing some of the highlights of the last year, along with some other impressive facts and statistics about what our staff help us to achieve every day. We have called it 'Thousands of reasons to be proud'.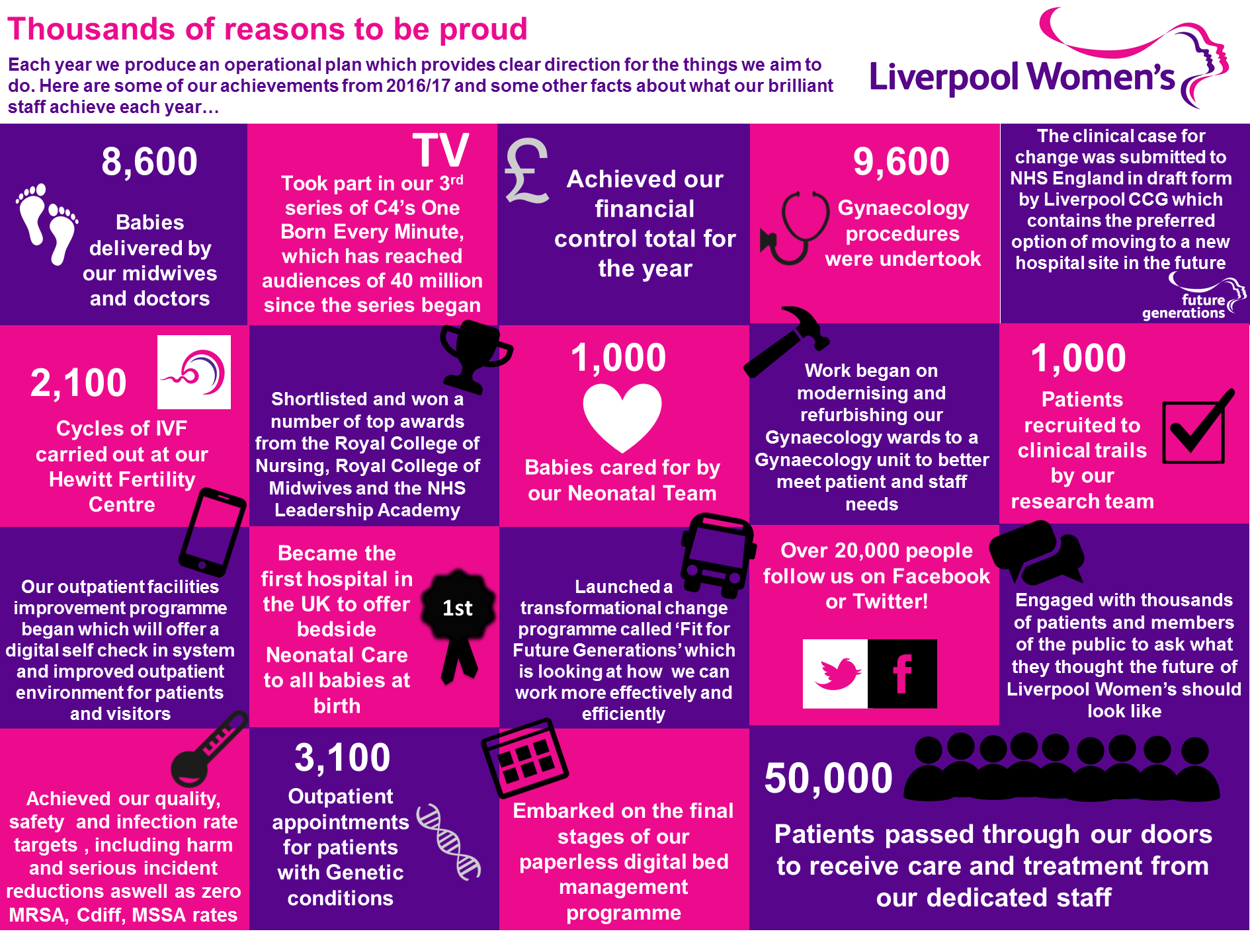 Here's just a little more detail around some of them:
Awards and achievements
The Trust was shortlisted for a number of top national awards including Health Service Journal (HSJ) and Royal College of Midwives (RCM) Awards. In a surgical first, the Trust was the first UK healthcare provider to clinically trial and adopt an American electrosurgical device used in procedures such as hysterectomies and was therefore shortlisted for the HSJ Awards 2016. The fantastic Bereavement Service was also recognised for a number of awards, most recently winning a national Butterfly Award and an NHS Leadership Award, as well as being shortlisted for a Royal College of Midwives award. The team provides support and care to anyone who has experienced a baby loss.
Bedside neonatal care
The Trust became the first hospital in the UK to introduce bedside neonatal care for all births – even for babies that need resuscitation. Previously, newborn babies who needed help with breathing straight after birth had to be taken away from their mothers to a large resuscitation unit. The new LifeStart trolley, developed in Liverpool, allows the newborn to be looked after at their mother's bedside. You can read more on this in our news article here.
One Born Every Minute
The hugely popular Channel 4 series One Born Every Minute returned to Liverpool Women's Hospital to film in November 2016. The new series which, you are currently enjoying on air shows the incredible care that our staff provide to the many women who come through the Trust's doors every day. There are many heart-warming stories across the 10 episodes that show a mix of wonderfully happy and also incredibly challenging journeys that mothers, babies, families, and friends go through. It is our welcoming staff that have allowed for this third Liverpool Women's series to take place and has required much patience, cooperation, and additional support from staff to make it happen. One Born Every Minute is consistently one of the most popular factual titles for the young (16-34) Channel 4 audience and since its launch in 2010 it has reached an incredible 40 million viewers!
Thousands more reasons
Along with the 8,600 babies that are delivered by our midwives, the 1,000 babies cared for by our Neonatal Team, the 9,600 gynaecology procedures undertaken, the 1,000 patients recruited to clinical research trials, the 2,100 cycles of IVF carried out, and the 3,100 outpatient appointments that are provided – there are so many more reasons how our members of staff contribute to what we achieve every day.
I would like to take this opportunity to say thank you to our staff for their continued commitment and dedication to our patients and families.