Sarah Nuttie, Mum and Midwife at Liverpool Women's, Wednesday 7th June 2017
When I first found out I was having twins I was in complete shock, even though I knew I was high risk because twins do run in the family, my morning sickness was worse than with my first, Samuel, and mum kept saying 'you're having twins' I didn't expect my family to grow by two!
I am a midwife at Liverpool Women's and have been for the past 9 years. My mum Pat is a midwife too, growing up she definitely inspired me.
Being a midwife I know too well the complications that can occur. Having twins is high risk and having developed pre-eclampsia in my first pregnancy, a condition that can cause high blood pressure and proteinuria (protein from the kidneys in the urine), I was extremely anxious because a twin pregnancy can make conditions worse than a singleton.
With my first pregnancy I really suffered with back and pelvic pain and found acupuncture worked really, really well for me. So this time I wanted to keep on top of things before they got too bad, I had acupuncture throughout and kept myself as active as possible.
When it came to my birth plan I wanted to ensure it was as natural as possible, I knew I would have to be continuously monitored but I wanted a natural birth with minimal pain relief. My first option was to labour in one of our birthing pools, at Liverpool Women's we have a waterproof CCG (cardio-toccograph) monitor that straps around your tummy and uses wireless telemetry instead of being plugged into a monitor with wires and leads. This allows you to still be monitored whilst in the pool, shower or bath whilst being mobile. Unfortunately due to the pre-eclampsia I had an emergency induction and my plan had to change, however, I still remained calm and as mobile as possible. I used a tens machine, birthing ball and stayed upright as much as possible. All these things made me feel more in control and my plans for a natural birth.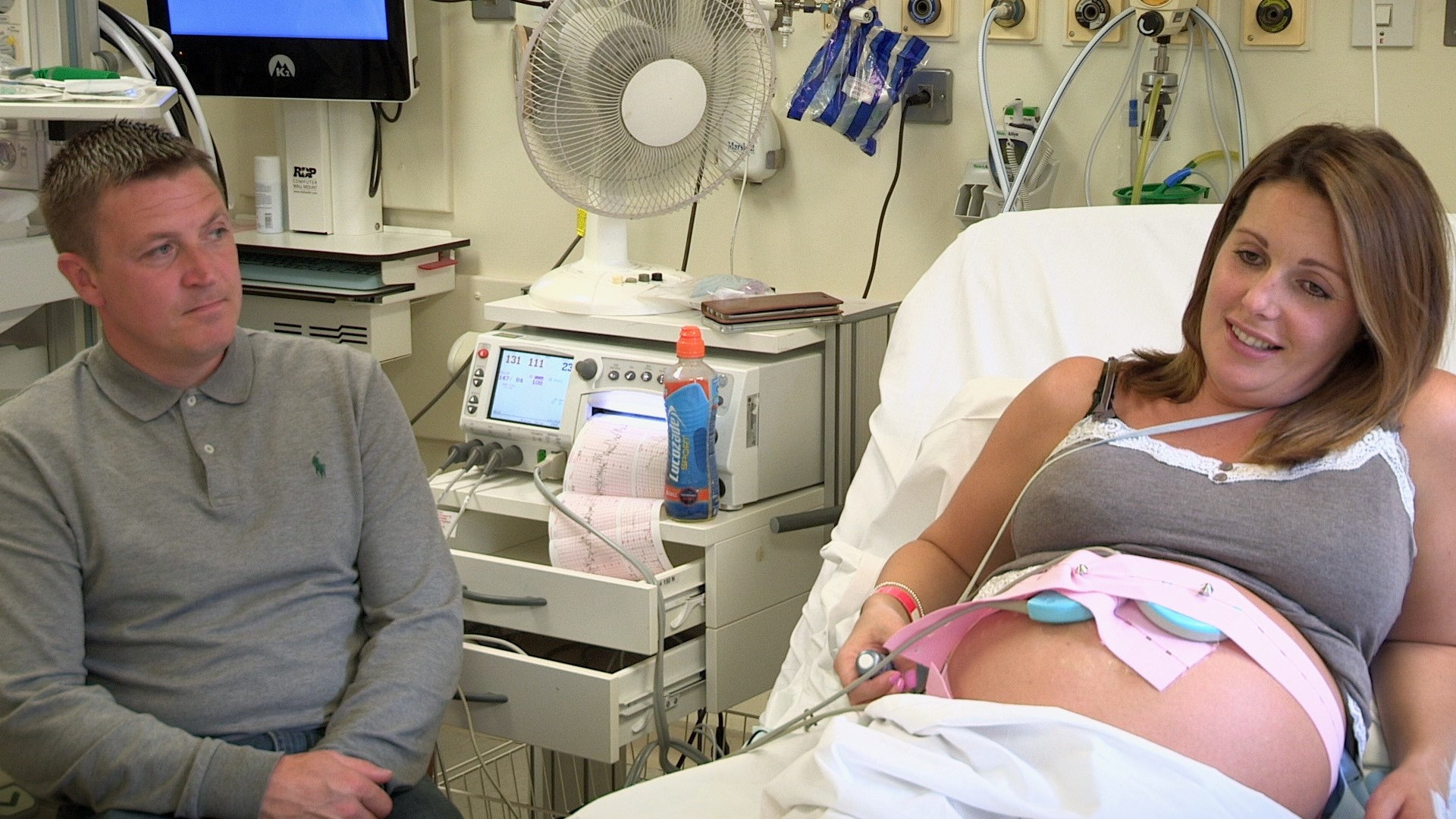 Even though everything was going so smoothly I knew in the back of my head I had to be prepared to go to theatre in the event of an emergency. However, I stayed calm and felt confident in my body and those around me that I would achieve a natural birth, providing the babies remained happy. My midwife Ann Spofforth was absolutely amazing throughout, making my birth a wonderful experience that I will never forget. With my mum and Ann both there for me I knew that me and my babies would be ok.
With having twins it is always more of a risk for the second twin. This is mainly because twin 2 is able to move and turn in the new found space once the first has been born. Elliot, (twin one) arrived at 16:01 weighing 5lb 5oz, I kept calm and remained confident in my body's ability to give birth again. Then 13 minutes later Rory, (twin two) was born and placed in skin to skin next to his brother. Rory weighed 4lb 10oz. It was extremely emotional but the relief when they were finally here and safe was overwhelming. We had done it!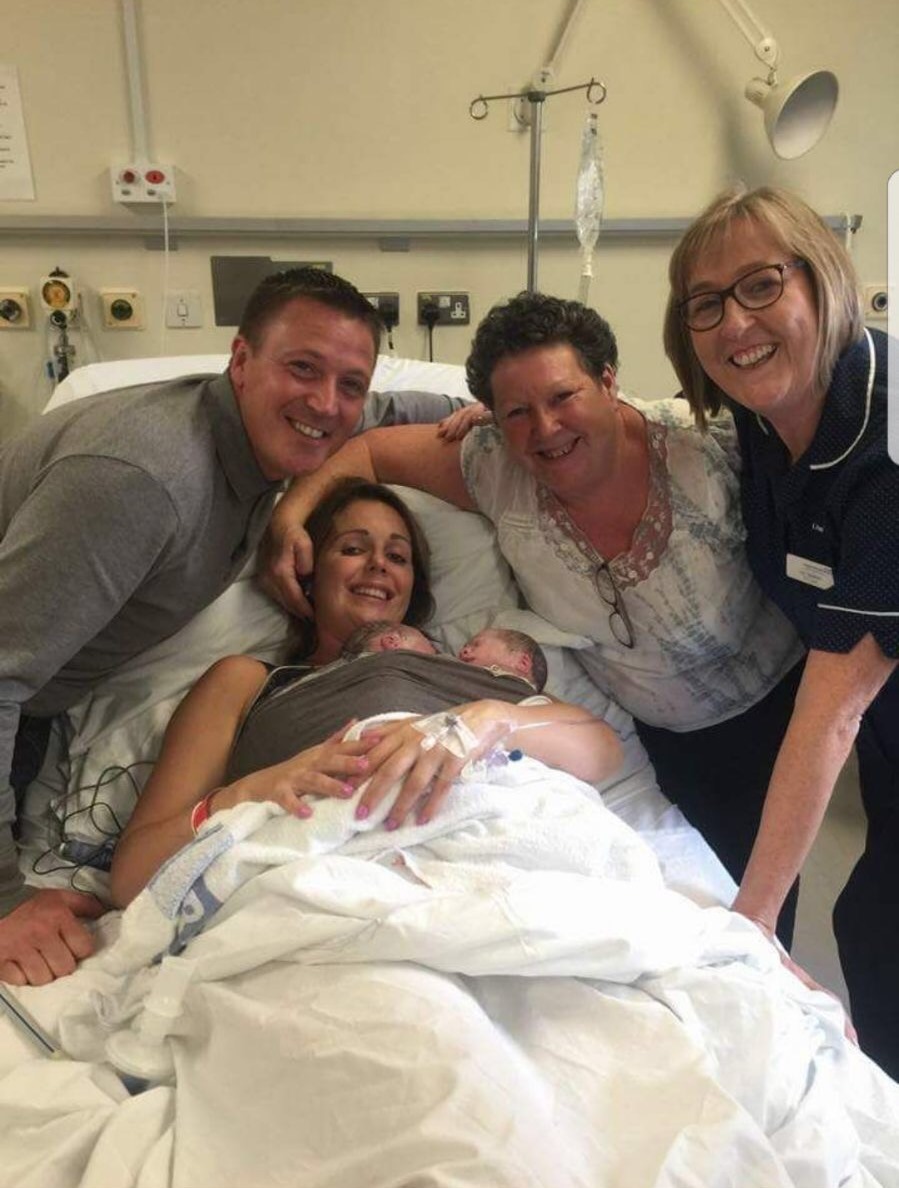 Afterwards Rory was grunting and wouldn't feed so was taken to the Neonatal unit, he stayed there for 48 hours but soon returned to Elliot and me in Transitional care. This is an amazing ward within Liverpool Women's that allows you to stay with your little ones when they are struggling to feed. This meant I was always with my boys, the specialist nurses were able to take care of feeding whilst I was able to be there for them to do everything else – we were never separated – this is a brilliant service that we are extremely lucky to have.
I am aware how lucky we have been, to have had such a positive and wonderful birth experience. Being supported to give birth naturally was so important to me and it certainly helped me achieve my goals. If there is any advice I could give to any women about to give birth I would say, stay active, calm and listen to your body and relax...My three boys keep me extremely busy…I'm lucky if I have time to go to the loo but they're truly amazing.