Are you considering starting your Midwifery career with us?
Join us for our Open Day on Saturday 12th March 2022, 10am-3pm at Liverpool Women's Hospital, Blairbell Education Centre.
To register your place follow the link here: https://bit.ly/RegistrationFormLWHMidwiferyOpenDay_March2022
Limited spaces available.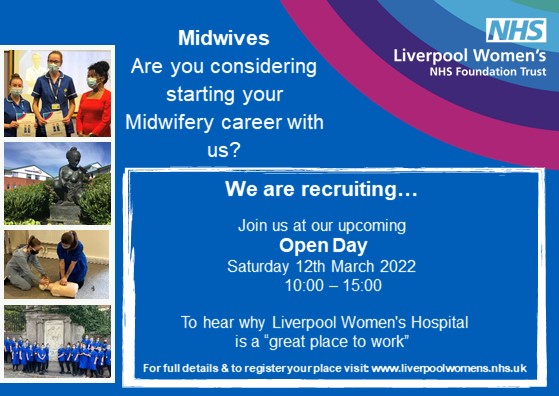 Are you a newly qualified midwife considering starting your Midwifery career with us? or a midwife who would like to hear more about the exciting career opportunities at LWH? 
We guarantee a rewarding and fulfilling experience as a valued member of our team with direct and proactive support from our dedicated Preceptorship Lead Midwives 
Our Open Day will include information about our Preceptorship Programme – a programme which invests in you, providing you with direct support as you continue to develop your skills and accountability as a professional  
We will provide information and preparatory support about our assessment process with, interprofessional involvement, and the opportunity to meet some of our Preceptees to hear about their experiences as Newly Qualified Midwives. 
As the only standalone unit of its kind in the UK our Trust is uniquely placed to support your professional growth with numerous advancement opportunities to develop, specialise and progress in your chosen career 
To speak with one of our dedicated Preceptorship Leads: 
Phone: 0151 708 9988 ext 1740 
Email: preceptorship@lwh.nhs.uk