To mark 'Baby Loss Awareness Week' this year The Honeysuckle Team at Liverpool Women's Hospital invite all bereaved families who have been affected by a pregnancy loss or the death of a baby to join them for a service of reflection and hope for all faiths and none on Monday 14th October 2019 at St Georges Hall.
This year, two services will be held in the Grand Hall of St Georges Hall, Liverpool, please make a note of the relevant times:
Late afternoon service for families with children to attend beginning at 5.30pm, doors will open at 4pm with refreshments and crafts prior to the service.
Evening service for adults only beginning at 8pm, doors will open at 7.15pm with refreshments and crafts after the service.
Adults are welcome to attend both services if they wish, however you will need to vacate the room after the first service to allow for it to be prepared for the second service.
Baby Names
Baby names will be displayed on screen throughout the service during intervals, all names will be displayed at both services.
If you would like your baby's name to be displayed on screen please email honeysuckle@lwh.nhs.uk with your baby's full name by Monday 30th September 2019 to allow the team to ensure all names are entered.
If you have any questions regarding the service please contact the Honeysuckle Team either by email at honeysuckle@lwh.nhs.uk or by calling 0151 702 4151.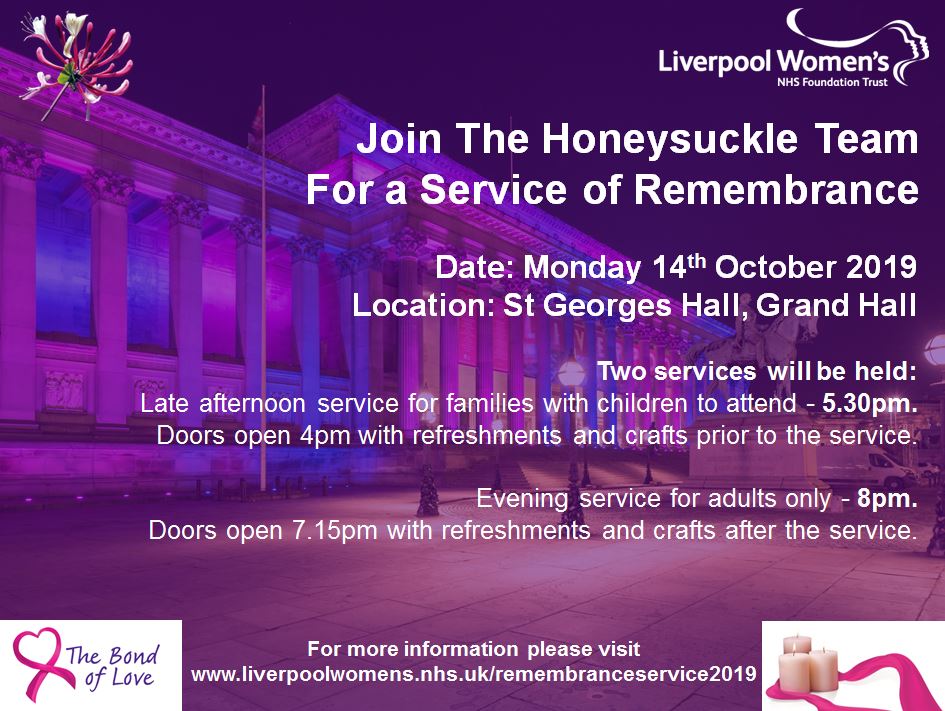 Wave of Light – Tuesday 15th October 2019
Also join our international 'Wave of Light' on Tuesday 15th October at 7pm. Wherever you are in the world, light a candle and let it burn for an hour, in doing so it will send a wave of light around the world to remember all our babies.
Share your pictures with us on social media using @LiverpooolWomens with the #WaveofLight.