The Medical Staff Committee, which is made up of all the Consultant medical staff of Liverpool Women's Hospital, has over the last two years been fully involved in the development of the future strategy for the services we provide.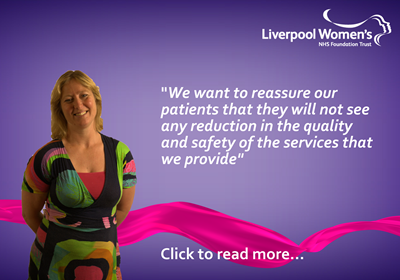 We have been fully briefed with regard to all the financial issues which relate to our Trust, the wider health economy and the NHS in general.
We are very confident that the services we, as doctors, are so proud to deliver at Liverpool Women's are under no threat.  We want to reassure our patients that they will not see any reduction in the quality and safety of the services that we provide.  We have a strong track record here at the Women's of investing in and developing our services through innovation and research, and we see no threat to this in future.
We are fully involved as doctors in the development of the Future Generations Strategy which is focused on creating a vision for women's services in Liverpool for the future. We are meeting regularly with our commissioners and other providers in the city to take the plans for women's services and other services forward.
As senior doctors, we remain confident that the Chief Executive and Board of Directors have the well-being and safety of our patients as their number one priority.
We would like to take this opportunity to encourage you to follow our official channels of communication. We have an official Facebook page and also an official Twitter feed through which we will be issuing regular updates about what is happening at Liverpool Women's. You can also sign up to become a member here to receive regular newsletters and apply to be on our council of governors too.
Miss Elisabeth Adams MD FRCOG
Consultant Uro-Gynaecologist
Chair of Medical Staff Committee at Liverpool Women's