Liverpool Women's is transforming patients' lives through its Endometriosis Service which has now been granted full accreditation by the British Society for Gynaecological Endoscopy (BSGE). This recognises it as one the UK's specialist centres where women can be diagnosed and helped with this debilitating and often painful condition.
The treatment has proved a life-changing experience for many patients. One wrote to the Trust to say it had resulted in a dramatic change in her quality of life. "My life is ten times better. I now have a life. I can't thank you enough for being there for me and my family."
The service is run by Consultant Gynaecologist Mr George Botros and Dr Dharani Hapangama with Specialist Nurse Denise Carter. Treatments include specialist advanced keyhole surgical intervention. The team is supported by consultant colleagues at the Royal Liverpool University Hospital. It has been running since May, 2014 and during that time 23 women with severe endometriosis have received surgery. The service provides dedicated specialist support, including a pain clinic, supported by a clinical psychologist.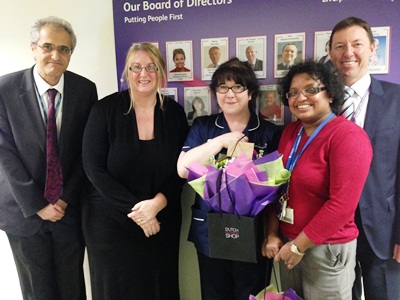 *Endometriosis is a condition where the endometrial cells lining the womb migrate to other parts of the body. Each month these cells react in the same way to those in the womb, building up and then breaking down and bleeding. Unlike the cells in the womb that are shed during a period, this blood has no way to escape and becomes trapped in the pelvic area, lower abdomen and other organs, even causing some organs such as the bladder and bowel to stick to the uterus. It is a chronic and debilitating condition that causes painful or heavy periods. It may also lead to infertility, fatigue and bowel and bladder problems. Around 1.5 million women in the UK are currently living with the condition which can affect all women and girls of a childbearing age, regardless of race or ethnicity.