On Friday the 15th November people from across the city went 'Neon for Neo-natal ' raising money for Liverpool Women's Big Tiny Steps appeal.
Liverpool Women's Big Tiny Step Appeal aims to raise £250,000 by 2020 to help boost funding received earlier in the year that will go towards enhancing and upgrading the existing Neonatal Unit at the Crown Street site.
Plans to improve the existing Neonatal Unit at Liverpool Women's have been in place for some time as an essential requirement to keep premature babies safe while the long-term future of Liverpool Women's services is determined. A better facility will help to improve the patient and family experience whilst also providing an interim solution to tackle some of our clinical challenges.
The Trust has been over whelmed by the support of patients, their families and friends, in particular the fantastic Oliver.
Oliver went in to school on the 15th November dressed from head to toe in neon and managed to raise over £800 for The Big Tiny Steps Appeal.
Oliver has two little sisters, Elsie who is four, and Sylvie who was born in August and spent almost a month in the NICU and Low Dependency Unit at the Liverpool Women's Hospital.
Sylvie was delivered via emergency c-section at just 32 weeks gestation. The following six days were spent in intensive care being treated for suspected sepsis and a possible bowel infection after which she was moved to HDU where she began her recovery. Soon she started to breathe on her own and was later moved from her incubator to a cot.
During these difficult times Oliver and his sister had limited access to Sylvie and due to risk of infection they were not able to see their Mummy or meet their baby sister until she was almost 9 days old.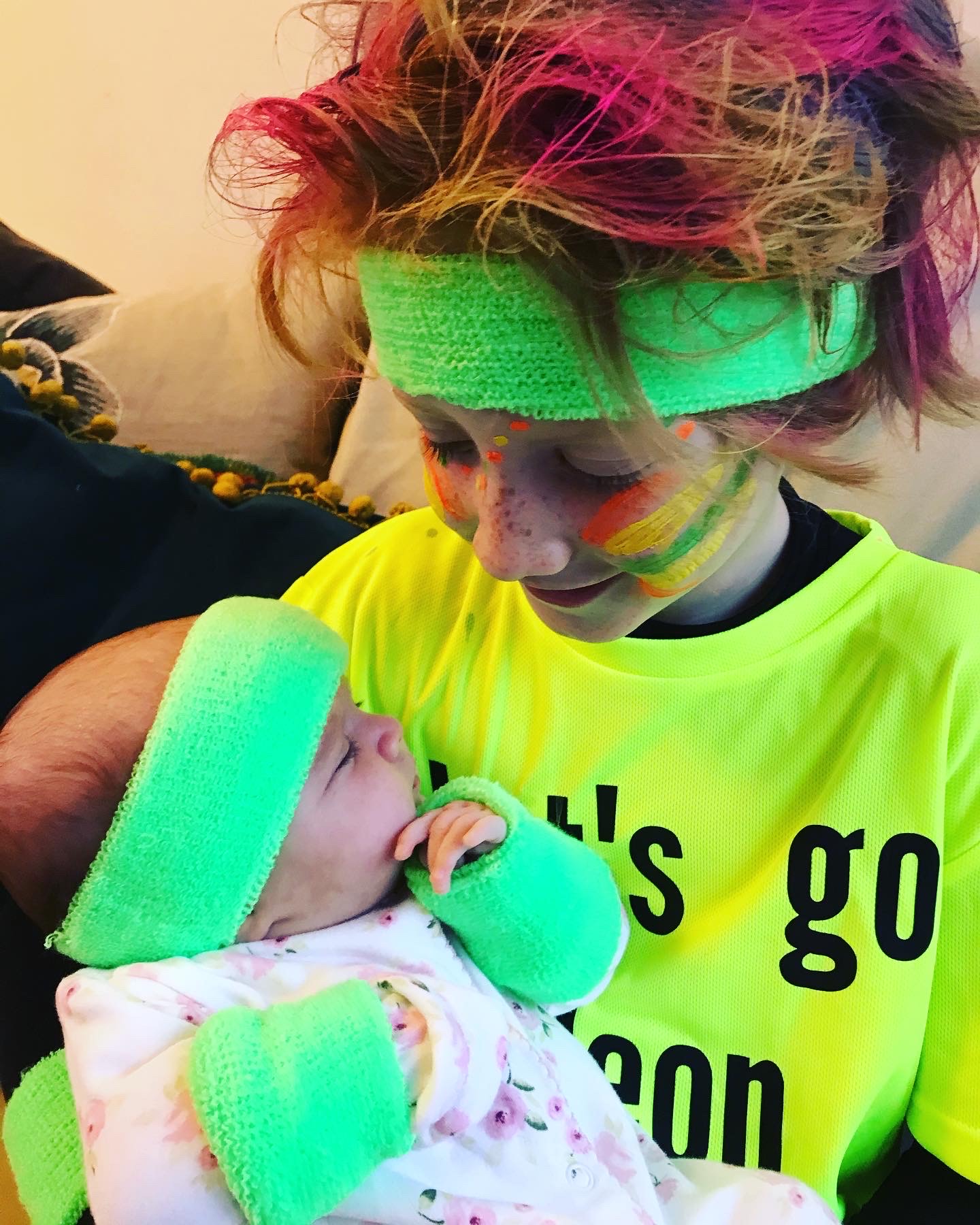 Oliver's mum, Emma, said "having that conflict between wanting to be there for your baby in the hospital and also be at home to help and support your other children navigate such an unsettling and confusing time was very hard. During their visits, we were able to spend time as a family with Oliver and Elsie doing the normal things: playing, chatting, eating dinner and watching TV and having a cuddle in the family room attached to the ward. These times were essential to help two very young children, anxious about their Mum and sister, normalise what was a very overwhelming and powerful experience. Oliver is able to look back and recall how the nurses spent time with him and his sister reading books, colouring in and giving him jobs to do in the unit to help him feel more at home. As parents, it was devastating to feel so torn between our children but these facilities made this difficult time easier. We can only imagine what the new facilities will mean to other families. We continue to be so grateful to the staff for the exceptional clinical care of our daughter and the wonderful compassionate care they gave to us a family".
Inspired by his parents' charity fundraising as children (Dad's 24 mile walk for National Meningitis Trust, having contracted this at age 11 and Mum opted out of Christmas presents at the age of 6 to raise money for vulnerable children (Oliver was recently shown the Liverpool Echo article that covered this story); and having heard about The Big Tiny Steps Appeal whilst on the Neonatal Unit at Liverpool Women's Hospital Oliver asked if he could help support this charity by doing a fundraiser of his own.
Emma said, "we chatted a lot about the Appeal and why this money would be so useful, Oliver wanted to help other families with a baby on the NICU have the opportunity for positive and happy memories, in the midst of very difficult and worrying times. Without these facilities, we wouldn't have been able to have those all-important early moments together with our new baby to treasure as a family – these moments are just as important to the children at home as well as the parents and new born in the hospital."
"As parents, Oliver brightens up our day every day; but he literally brightened up everybody else's too on the 15th November. We are very proud and humbled by what a thoughtful six year old and great big brother he is to Elsie and to Sylvie."
Kate Davis, Head of Fundraising at Liverpool Women's said, "Oliver has been an inspirational young fundraiser who has showed dedication and commitment to raising funds for Neon for Neo. Thank you Oliver for all you have done!"
So far the 'Let's go Neon for Neo' has raised over £2,000.
If you would like to support the Big Tiny steps appeal please visit https://www.liverpoolwomens.nhs.uk/charity/big-tiny-steps-appeal/donate/