World Prematurity Day is an international awareness day for premature birth and all the issues surrounding it. 15 million babies are born too soon each year across the globe, that's 29 babies every minute.  Sadly around one million of these babies will not survive.
There are many organisations and charities raising awareness across the UK of this very serious issue affecting parents and families supporting World Prematurity Day.
The Harris-Wellbeing Preterm Birth Centre at the Liverpool Women's Hospital in partnership with the University of Liverpool and Liverpool Women's Hospital's Neonatal Unit, are in full support of raising awareness. The University of Liverpool's Active Learning Laboratory, in the School of Engineering on Brownlow Hill, will be illuminated in purple to mark World Prematurity Day, on Thursday 17 November 2016.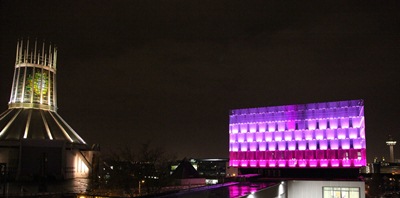 The Active Learning Laboratory is lit with hundreds of LEDs and can be seen as far away as Wirral. The facade of the building comprises 826 glass panels of which 413 panels are constructed from twin layers of glass, sandwiched with a dotted pattern.  These translucent dots give a surface on to which light is reflected but also allow a direct passage of light through.  The latest LED technology and electronic solar tracking equipment means the light display can be illuminated with the benefit of hugely reduced energy running costs.
As part of a national awareness scheme run by charities Bliss and Ickle Pickles, buildings across the UK will be lit up in purple. 
Also supporting the awareness scheme in Liverpool is CBRE: UK who have arranged for the reception area at One Derby Square, Liverpool to be illuminated in purple.
The Harris-Wellbeing Research programme is aimed at improving the understanding of what causes preterm birth and what can be done to prevent it.  Researchers at the centre are investigating treatments using a personalised medicine approach, trying to predict mums at risk of preterm birth. They have received overwhelming support for their research both from mums at high and low risk of preterm birth.
Professor Zarko Alfirevic, Harris-Wellbeing Preterm Birth Centre – Director and Head of Department, Women's and Children's Health, University of Liverpool said "Our Centre is fully behind this initiative and we are very proud to be part of it.  Our research endeavors are focusing on families already affected by prematurity, but we want all pregnant women, their families and the public at large to join us in our efforts.  We must all work together on better prevention, better therapies and better support for affected families". 
Dr Angharad Care, Harris-Wellbeing Clinical Research Fellow said "we are still unclear about the causes of preterm birth, which makes it very hard to predict and almost impossible to prevent. Cerebral palsy, problems with sight and hearing and recurrent respiratory illnesses frequently affect those that survive extreme prematurity.  Research is absolutely essential to help understand what triggers early labour if we are going to reduce rates of prematurity globally". 
Liverpool Women's Neonatal Unit is part of the Cheshire and Merseyside Neonatal Network and takes care of more than 1,000 babies and their families every year from the Isle of Man, North Wales and other areas of the country. They ensure the whole family is included in the care and decision making of their baby in order to provide family centered care of the highest quality and in accordance with Liverpool Women's philosophy of care.
The Neonatal Unit houses 54 cots; 16 for the intensive care of the newborn, 12 for high dependency, 20 for low dependency care and 6 for transitional care. The Newborn Appeal at Liverpool Women's Charity funds specialist equipment on the Neonatal Unit to help with the care of premature and poorly babies.
As part of the awareness day Liverpool Women's is inviting people to "wear purple" to raise awareness and donations will benefit both the Harris-Wellbeing Preterm Birth Research Centre and The Newborn Appeal within Liverpool Women's Charity.
If you would like to donate please use one of the donation boxes located in Liverpool Women's Hospital Main Reception, the Fetal Medicine Unit reception and on Neonatal Unit on the day, or on-line at Liverpool Women's Charity You can also Text HWWC15 £10/£5/£2 to 70070 to support The Harris-Wellbeing Preterm Birth Centre or NEWB16 £10/£5/£2 to 70070 to support The Newborn Appeal.
If you have experienced a preterm birth or would like to get involved in supporting the Harris- Wellbeing Centre's activities please contact Tracey Ricketts, ricketts@liverpool.ac.uk for more information.  If you would like to support The Newborn Appeal at Liverpool Women's Charity and find out more about the work of our Neonatal Unit here at Liverpool Women's, please contact Nadia Alsafaar, nadia.alsafaar@lwh.nhs.uk
Follow our social media channels to learn more about how we have been supporting the day - @LiverpoolWomens 
#WorldPrematurityDay