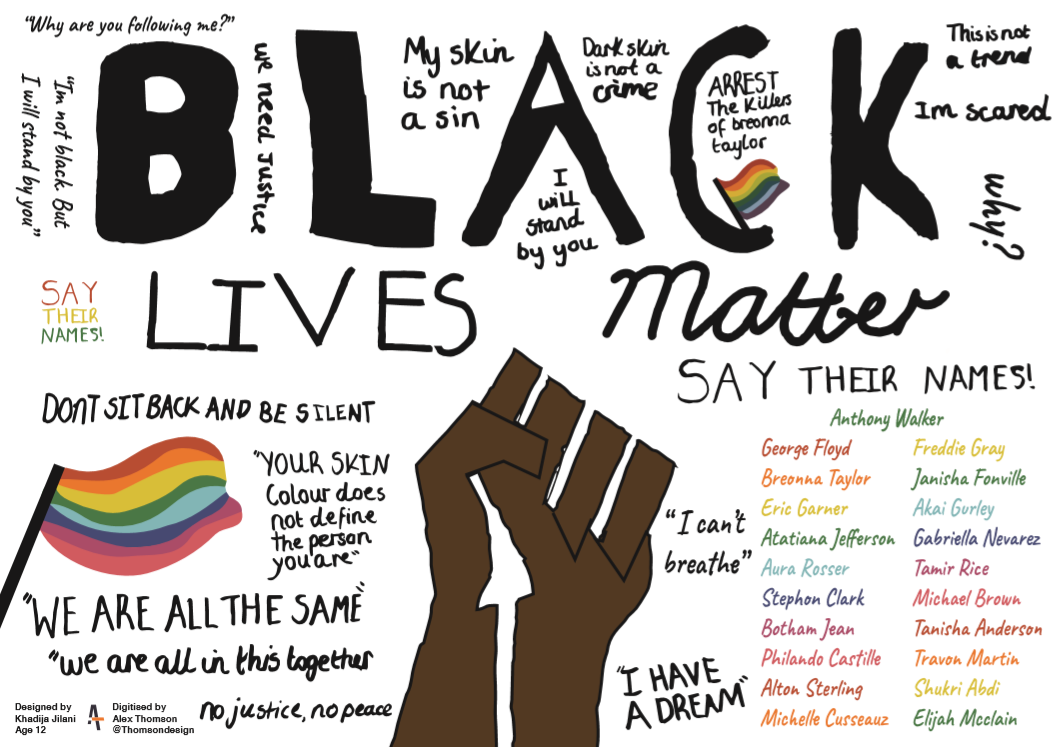 Kiran Jilani is a Consultant Obstetrician at Liverpool Women's. The following blog is her reflection on the importance of the Black Lives Matter movement, with contributions and artwork from her 12 year old daughter, Khadija.
My daughter is 12 years old and has a history of mental health. Part of her self-care involves writing and expression through art.
Since George Floyd's death she has been deeply affected by the Black Lives Matter campaign. I believe that the social media platform has given us the portal through which we can view racism as never before.
History of racism is as old as the human civilisation itself.
History books are filled with chronicles of brutality and prejudice based on colour, creed and ethnicity… but they are stories.
On the live media though, they seem very near, raw and devastating.
Fear of the unknown and failure to accept the difference in human kind are the abhorrent emotions that feed on the repugnance of racism. The minute a human is considered sub-human, gives the oppressor a mandate to destroy.
My daughter Khadija was a victim of such violence at the age of 9 when a group of school boys the same age felt that it was right to physically beat her because of her colour while the rest of her class cheered and applauded.
The echoes of that degradation have followed her to this day although I am proud that she is fighting to survive.
Unfortunately not all souls are as lucky as my daughter.
When the footage of George Floyd was on the TV, I remember her locked in her room for hours writing and drawing.
She wrote;
Why should my colour dictate the way I will be treated? I respect people around me, I follow rules and I live in peace, why should I be scared ?
Why does my colour put me at risk of getting killed so violently?
Why is my colour a crime, something I didn't choose and pick and I can't change?
Why should I want to change my colour?
We need to continue the campaign of Black Lives Matter. People like Anthony Walker have laid their lives in vain if we don't.
Saying their names and remembering them will keep this movement alive, this movement is for justice.
It's the right of every human to feel safe.
I don't want to be attacked or challenged because of my colour.
I could not help but feel her own sense of injustice that stems from what happened to her in the past.
I have learnt a very important message through my daughter's views.
Unfortunately adversity does not pick its victims and some lucky individuals can escape the mental and physical repercussions of misfortune with support and time.
For those who have been subjected to cruelty and subjugation, the rest of us hold responsibility to stand up with them.
We may be of any caste or colour but our humanity joins us together. We are not born racist and our minds are programmed to understand and learn the language of love.
Let's unlearn the language of hatred and racism.
We will remember the victims and honour them.
We will remind ourselves of the value of their loss.
We don't just lose a person; we lose a family, a community, a pillar of our society.
We are all in this together.