Wellbeing of Women has announced it has chosen University of Liverpool and Liverpool Women's Hospital as the recipient of a £1 million grant to pioneer vital research into premature birth.
 
This exciting development is made possible through the personal generosity of Lord and Lady Harris of Peckham who have supported the women's health charity for 30 years.
 
Their hugely-inspiring donation will be made available over the next five years and will enable the opening of a new Harris/Wellbeing of Women Centre for Pre Term Birth Research at Liverpool Women's Hospital.
 
The Centre led by Professor Zarko Alfirevic and Professor Sue Wray will  work on an interconnected research programme to understand better what causes preterm birth and what can be done to prevent it.
 
There will be a strong focus on developing personalised treatments for all those pregnant women who experience or are at risk of preterm birth. This will include personalised risk assessment in early pregnancy, understanding the effectiveness of different preterm labour drugs and facilitating better and safer use of preventative therapies.
 
The Centre will also act as an international hub for research, and best clinical practice related to preterm birth and will provide cutting-edge research training for early career researchers committed to preterm birth research.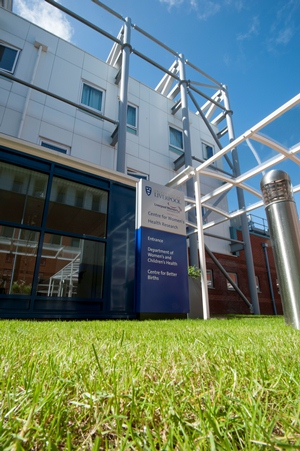 Wellbeing of Women Ambassador Claire Sweeney, who gave birth to her son, Jaxon, at Liverpool Women's Hospital in September says: "I'm so pleased that the Harris/Wellbeing of Women Research Grant has been awarded to Liverpool. Clinicians and scientists there have incredibly high standards and I found them really supportive and empowering. 
 
"When I was at Liverpool Women's Hospital I saw premature babies having emergency treatment which both saddened and touched me immensely.
 
Anything that can be done to find out the causes of premature birth and reduce its occurrence would make a huge difference to so many women's lives." 
 
Liz Campbell, Director of Wellbeing of Women says: "Wellbeing of Women is committed to funding research which looks at the possible causes of premature birth and offers safe and effective solutions. 
 
"Premature birth can be very dangerous for mother and baby; and is particularly devastating when babies die. 
 
"The new Harris/Wellbeing of Women PreTerm Birth Centre will focus on new treatments to prevent premature birth and help women who have had previous preterm births feel more confident about their pregnancies and their ability to carry a pregnancy to full term. 
 
"A huge thank you must go to Lord and Lady Harris of Peckham for their fantastic generosity and sustained support of Wellbeing of Women.  They really are committed to improving health outcomes for mothers and babies everywhere." 
 
Prof Zarko Alfirevic, Centre Director says: "We are delighted that Wellbeing of Women has recognised our work in this area with such a generous donation.  We are confident that with a continuous support of Liverpool University,  Liverpool Women's Hospital and all our patients we  can make important scientific advances that will reduce the burden of prematurity for families and society."