Liverpool Women's Jan Walton has become a legend on Merseyside and further afield. This is not just because she gave birth to and raised the world's only surviving all-female sextuplets but also because as well as bringing up her amazing family - with hands-on husband Graham - she has played a huge part in helping to raise over £2.5million for the Neonatal Unit at Liverpool Women's Hospital.  This is money which is helping the most vulnerable babies not only from Merseyside but much further afield who are transferred to the Women's because of its expertise in neonatal care.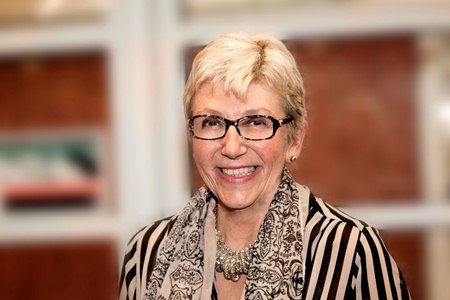 In recognition of her achievements, Jan has been selected as one of this year's finalists in the prestigious Merseyside Woman of the Year event - Liverpool's own "Oscars" for women who have made a real impact in many different ways on local life. It is organised by the Merseyside Women in Business organisation and you can vote for Jan by going to their website at http://www.merseysidewomenoftheyear.co.uk/vote
The money raised by the Newborn Appeal of which Jan, 62, has just stepped down as Fund Raising Manager has gone towards not only providing the most up to date specialised equipment but also to maintain a unique research programme which helps investigate the causes of sickness in very premature babies and in their prevention. Much of the money raised has been donated by grateful families and friends of infants treated on the unit and others who admire its work.
Jan has said that her personal reasons for taking on the Newborn Appeal were to give thanks for all the care, attention and support given to her and Graham when her sextuplets, Sarah, Hannah, Lucy, Ruth, Kate and Jenny, were born in November, 1983, at Oxford Street Maternity Hospital, making headlines all over the world. She has recently written a book about her girls, Six Little Miracles, which has proved a bestseller.
Jan has said the generosity of people never ceases to amaze her - often at very sad times. While many families raise funds in thanks for taking home a baby who has survived very premature birth, other families who have lost their baby still want to give something back in thanks for the care they and their baby received from Neonatal staff. In Jan they have found a warm and sympathetic friend to support their fundraising efforts.
She has always tried to personally accept cheques at fundraising events not only locally but in other parts of the country as very sick babies are often transferred some distance for care at Liverpool Women's.
One of her most brilliant fundraising efforts has been to support and organise an army of 500 women knitters who make beautiful baby clothes which Jan has sold in the hospital and also in Liscard Village, raising as much as £30,000 a year for the Newborn Appeal.
Kathy Thomson, Chief Executive of Liverpool Women's Hospital, has said of Jan: "Jan has been a dedicated and caring individual. With drive and determination, she has always devoted herself to raising as much as possible for the Newborn Appeal and been a great ambassador and supporter of our Trust."