We are pleased to announce that we are upgrading our two existing Gynaecology Wards to make a new Gynaecology Unit.  A project has been underway since September 2016 to review and redesign inpatient pathways at the Liverpool Women's Hospital to improve patient experience and also to ensure that we are making the best use of our theatre space, beds, and staff resources.
The main aim of the project is to ensure that we look after patients at the right time, in the right place and with the right clinical teams around them.
Between March and June 2017, redevelopment work will be taking place across both of the Gynaecology Wards to re-model and modernise the space, making for a better patient experience by providing more up to date facilities, as well as a more efficient clinical space for our staff to work across.
The project team, which includes clinical staff, have put contingency plans in place to make use of other areas of the hospital while this exciting redevelopment work takes place. Understandably, this will cause some minor disruption as some patients will be treated in different areas of the hospital, but we would like to assure you that this will not impact on the quality of care provided.
Patients should be advised in their appointment letters where they should report to on arrival. However, if patients attending the hospital for an appointment during this time are unsure, they should report to the hospital's Main Reception where they will be advised by a member of staff.
We would like to apologise in advance for any inconvenience caused by this work. If you have any positive feedback or concerns you would like to share while this work takes place, please contact our PALs service on 0151 702 4353 or email: PALS@lwh.nhs.uk. 
We have been planning this work since September 2016 and the physical building work is scheduled to take place between March and May 2017. The new area will be fully operational in June 2017. The redevelopment work will be undertaken in carefully designed phases to have minimum disruption on clinical services and patient care.
Below you will see an artist's impression of how some of the redeveloped area of the wards will look when the work has been completed. The new Gynaecology Unit will provide a more modern, bright and easily accessible area which will include a new admission lounge, new consulting rooms, new patient changing facilities, and revised bed space.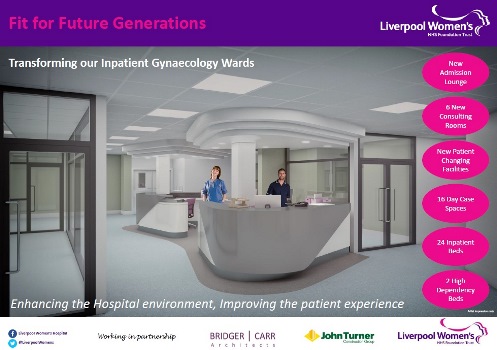 From March, until the work has been completed in late June, you will see more visual information and plans about the new space across the Trust and members of staff will be happy to answer any questions you may have during this period.
We would like to thank you for your co-operation while we undertake this exciting redevelopment for our patients and their families.