Staff from the country's only two hospitals dedicated solely to the care of women and their babies will take to their bikes to raise money for their respective charities next month.
In an event dubbed 'To the Women's on 2 Wheels', teams from Liverpool Women's Hospital and Birmingham Women's Hospital will make the 110 mile trip from each other's hospital, back to their own, using only pedal power.
Lisa Masters, Fundraising Manager at Liverpool Women's Hospital, said: "This was an idea that the two hospitals cooked up between us, and is a great way to raise awareness of the amazing work we do for women and their babies, whilst raising some much needed funds for two extremely worthy causes. Women's health and maternity care are things that every single person will need at some point in their lives, even if only at the very start, so ours is a cause that everyone can relate to. We're delighted to announce that Liverpool's own Lady Mayoress Elect, Rachael Plant, will be joining our team."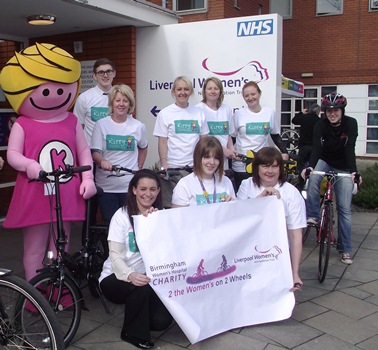 Each hospital will have a team of 20 cyclists who will complete the 110 mile journey over the weekend of 21st & 22nd June, finishing at their own hospital. The two teams will begin their journey's from the opposite hospital on the Saturday morning before camping together at a central location on the Saturday evening and then riding for home on the Sunday.
Eileen Rock, Fundraising Manager at Birmingham Women's Hospital, added: "It's great to be joining forces with Liverpool Women's Hospital for such a great cause. Our hospitals have a long history of providing dedicated care to thousands of women and their families and our staff are incredibly proud of the care they provide. A wide range of staff including doctors, midwives, volunteers and support staff will be pedalling to raise vital funds for the hospital charity and we look forward to a continued partnership with Liverpool Women's Hospital."
The ride will be facilitated by Bikeright!, the largest cycle training organisation in the UK, with its employees volunteering their time for free. Jo Somerset, Director of BikeRight!, said: "We are delighted that our staff from Birmingham and Liverpool are volunteering to support this challenging ride.  As well as raising money for a cause that is very close to our hearts, it has the additional impact of promoting healthy activity for the participants and everyone who is watching the ride."
Thank you to OCS (http://www.ocs.co.uk) who are the main sponsors of '2 the Women's on 2 Wheels'
To sponsor the teams, or make a donation to their charities, you can visit the following links: for Liverpool Women's Hospital http://www.justgiving.com/Lisa-Masters and for Birmingham Women's Hospital www.justgiving.com\bwhct1