Dr Colin Morgan, Consultant Neonatologist at Liverpool Women's, has won a national award from Bliss, the newborn charity, for his research in improving the future developmental prospects of very early premature babies.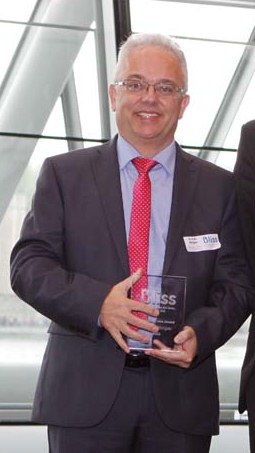 Dr Morgan was presented with the charity's Improving Care Award for his work in leading the Bliss funded research project, SCAMP (Standardised Concentrated with added Macronutrients Parenteral) which showed that improving the nutritional content of intravenous feeds of very early babies improves early head growth which in turn has a strong link to increased neuro-development outcomes. The findings of the two-year research programme, carried out on Liverpool Women's Neonatal Unit, are predicted to have a huge impact worldwide.
Said Dr Morgan: "At 24-25 weeks, babies' brains begin a growth spurt which continues through the last trimester of pregnancy and the first three months after birth for full term babies.  If premature babies do not receive appropiate nutrition at this critical time there may be irreversible long terms affects to the baby's brain and nervous system.
"We are grateful to Bliss and our own Newborn Appeal for funding the research which should help improve the survival chances and life quality of future generations of premature babies."