A team of local rail staff have swapped the underground for the outdoors in order to help a Liverpool hospital this week.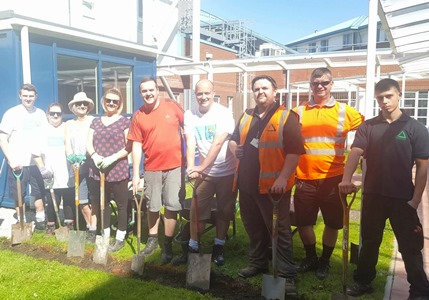 Eight volunteers from Merseyrail spent a day cultivating a new memorial garden and play area, supervised by Groundwork, which will benefit women, children and families visiting Liverpool Women's Hospital. 
Lisa Masters, Fundraising Manager at Liverpool Women's, said: "We're extremely grateful to the volunteers from Merseyrail who gave up their own time to come and help out with the creating of what we hope will be a lovely area for our women and their families to come and enjoy some fresh air. The memorial garden will also enable women and families who have suffered a bereavement to escape from the hospital environment and have some time to themselves."
Andy Parry, Head of Engagement and Reward at Merseyrail, said: "It was great to support the Kitty in the building of this memorial garden for a really worthwhile cause. We look forward to seeing the finished garden and hope that it provides comfort for families who will use it for many years to come."
Peter Heberlet, the Land Programme Director at Groundwork Cheshire Lancashire & Merseyside added: "We feel very privileged to have designed this important project at the hospital and it's great to see it starting to take shape thanks to the Merseyrail volunteers who have given the project a kickstart. Given that it was the hottest day of the year, they worked relentlessly with our build team and got through more than we anticipated."
The project has been funded by a £12,000 grant from Tesco's Bags of Help after shoppers voted it as their chosen charity project.
The Memorial Garden and Play Area will officially be opened by the Lord Lieutenant of Merseyside and the Lord Mayor of Liverpool on the 21st September.