The Wrightington, Wigan and Leigh Hewitt Fertility Partnership, a brand new assisted conception unit located at Wrightington Hospital, is now open.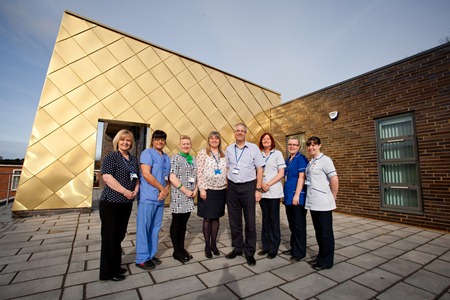 The opening of the new unit is a partnership between The Hewitt Fertility Centre, part of Liverpool Women's NHS Foundation Trust, and Wrightington, Wigan and Leigh NHS Foundation Trust (WWL). The new unit provides state-of-the-art facilities for diagnosing and treating fertility problems. The unit is staffed by a highly experienced team of Consultants, Scientists, Nurses and Administrative staff who are dedicated to delivering consistently high success rates, helping people achieve their dream of starting a family.
Mr Phil Harris, Consultant Gynaecologist and Clinical Lead for the Unit, said "We are thrilled with our new purpose built accommodation and our patients can expect the highest standards of care and support at every stage of their treatment. Each patient will have their own unique journey with us and, as such, we offer a highly personalised service which suits each patient's needs. Where possible on-line clinical assessments and one-stop clinics will be maintained and developed, to ensure the upmost ease and convenience for patients."
The partnership is great news for patients as it combines elements of The Hewitt Fertility Centre's expertise with WWL's already extremely successful fertility services. The partnership also uses the very latest in assisted conception technology.
Dr Christopher White, Commercial Director at The Hewitt Fertility Centre, said: "At The Hewitt Fertility Centre we are extremely proud of the level of service that we are able to provide people who are having difficulty getting pregnant. We believe that our investment in the very latest technology, including time-lapse equipment, means that we can offer people their very best chance of a successful pregnancy. This new partnership means that even more people across the North West and beyond will have access to world class fertility services offering success rates that are amongst the very best internationally."
The Wrightington, Wigan and Leigh Hewitt Fertility Partnership will provide both NHS and self-funded treatment.