The hugely popular Channel 4 series returns to Liverpool Women's Hospital on Tuesday 4th April (9pm, Channel 4) to highlight the day-to-day life in a world where every minute of every hour a baby is born.  And as is discovered, no birth story is ever the same.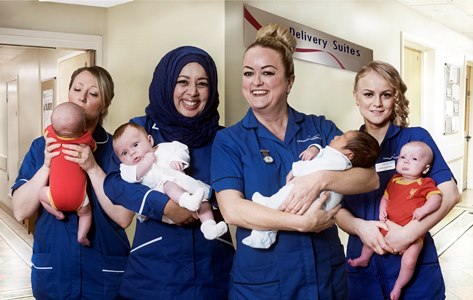 A whole new group of expectant mothers, family members, partners, and friends check in - including Health Care Assistant at the hospital Olwen, who has a very special delivery as she supports her grand-daughter whilst on the ward.  Midwife Sarah Nuttie also keeps it in the family when she gives birth to twins naturally with her mum (Pat Ryder) by her side, who is also a midwife at the hospital.
Fiona Bryant, Head of Midwifery at Liverpool Women's said: "The new series again shows the incredible care our staff provide to the many women who come through our doors every day. There are many heart-warming stories across the 10 episodes that show a mix of wonderfully happy and also incredibly challenging journeys that our mothers, babies, families, and friends go through."
One Born Every Minute is consistently one of the most popular factual titles for the young (16-34) Channel 4 audience and since its launch in 2010 it has reached an incredible 40 million viewers (70% of the viewing population).
Viewers of the show can visit the Liverpool Women's website after each episode where they will find a blog from a member of staff who will talk about the themes and issues raised each week.
Help Liverpool Women's to care for women, babies & their families, make a text donation to Liverpool Women's Charity text 'LWHC00 £5' to 70070 – Thank you.