"Please don't leave, stay forever," said a patient when she learned that Joyce Smith, 64,  was retiring from her role as a gynaecology staff nurse at Liverpool Women's. It was a fitting tribute for a nurse who has devoted most of her life to caring for patients.
Joyce's career reads like a part-history of the NHS in 20th century Liverpool.  Aged 17, and living opposite to the old Bootle General Hospital, near the docks, she decided in 1968 that she would like to be a nurse and just called in to ask if she could  see the Matron.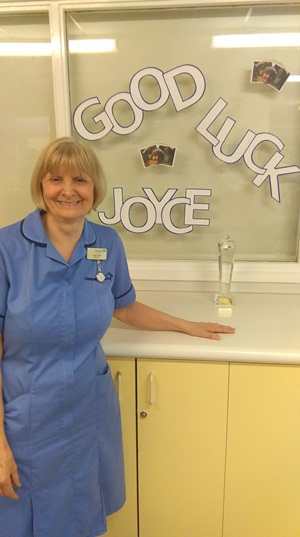 "She actually saw me right away," recalls Joyce. "I told her I'd like to be a nurse and care for people. She interviewed me and after I'd done some aptitude tests in writing and maths, she offered me a job there and then as a Cadet Nurse! It wasn't a bit like applying to be a nurse today." Joyce, who lives in Blundellsand,  Crosby, has been caring for patients ever since.
"As a cadet, I  wasn't allowed on to the wards at first but had to work in records." But after ten months, she began to train as a State Enrolled Nurse and to care for her first patients, many of them dock workers.
"The docks were so busy and there was not a lot of health and safety," recalls Joyce. "We saw some terrible injuries but the dockers were wonderful, the salt of the earth. They didn't complain and they always wanted to help us."
Being a nurse was very different to today, says Joyce. "It's hard to believe but we had to wash the bandages, often very bloody, and hang them up to dry so they could be used the next day! We had to wash out sputum bowls. Matron was very strict. If you broke a thermometer for example you had to pay for it - and we had to pay for our own caps, aprons and sleeve frills to be starched  at the Chinese laundry opposite the hospital."
In 1970, Joyce moved on to work at Bootle Maternity Unit for eight years. When that close down, she moved to the old Walton Hospital X-ray department and outpatients.
In 1979,  she moved to Oxford Street Maternity Hospital where she converted her SEN to RGN (State Registered Nurse).  When the hospital closed and moved to the newly opened |Liverpool Women's Hospital in 1995, Joyce qualified in oncology nursing and has worked on the Gynaecological Wards ever since. There she has been adored by  her patients and their families and highly valued by her colleagues.
On their feedback forms, patients, including those with cancer,  have said how caring she is and how she always makes them feel safe and well looked after. She is noted for hardly ever going off duty on time. "I never wanted to go until I knew I had done my all," says Joyce,
She has witnessed some amazing advancements in her long career. "Years ago, a woman who had a hysterectomy would be in bed in hospital for weeks. Now, as part of our Enhanced Recovery Programme, it is often done by keyhole surgery and women are encouraged to get up and be mobile the next morning to help prevent blood clots. They are usually going home in two to three days."
Nominating her for Employee of the Month award this spring, her colleagues wrote "Joyce is an inspiration to all of our team and a legend in Liverpool Women's. She is an absolute asset to our team and the Trust. She meets and exceeds all our values and will be greatly missed."
As a farewell gesture, Joyce's colleagues have successfully applied for her to go to a Buckingham Palace Garden Party this summer, a fitting celebration for a "legend".
Said hospital Chairman, Edna Robinson: "It is because of the hard work and dedication of staff like Joyce that we are a leading healthcare provider and a centre of excellence. We wish her best of luck in her retirement."