A new garden has been opened at Liverpool Women's Hospital this week, offering women and families alike a tranquil setting in which to sit and relax.
The Garden of Hope and Serenity, named following a competition held amongst staff at the Trust, was built by Rice Lane Landscapes with help from a team of Liverpool Women's volunteers and nurses and was funded by The League of Friends charity.
Kathryn Thomson, Chief Executive at Liverpool Women's, said: "This garden is a lovely area where our women, families and staff can relax in the sunshine and escape life on the wards for a while. It is a credit to our staff and volunteers that this garden started off as an aspiration and quickly became a reality. Their dedication and hard work has created a lovely setting that we hope visitors to the hospital will appreciate."
An opening ceremony took place on International Day of the Nurse, this week, and saw specially chosen flowers planted in the garden by key figures involved in its creation. This included a flower called Jean, which was planted in tribute to a former nurse at the hospital, Jean Smyth, who sadly passed away in 2010. Other flowers were specially chosen to symbolise inspiration, compassion and the most famous nurse of all, Florence Nightingale.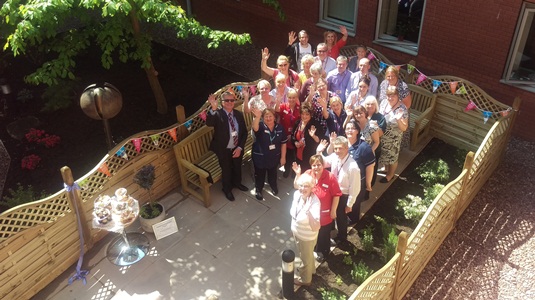 Allison Edis, Deputy Director of Nursing and Midwifery, said: "The idea for this garden came from our gynaecology nursing team, who recognised that women and families visiting our Emergency Department at times would benefit from an area away from but adjacent to the department to have time to reflect on conversations with staff and have space and an area of calm to process their thoughts and feelings . We're extremely grateful to the team for their vision and planning, our volunteers for putting so much hard work into building the garden, and The League of Friends for their donation – all of which were vital in giving us the lovely garden we are so proud to open to patients today."
Sharon Owens, Emergency Department Manager, said: "Jean worked with us for over a decade and sadly developed breast cancer. Jean thankfully had successful treatment and returned to work with us until she retired in March 2009.
Unfortunately, Jean passed away the next year. Jean was an inspirational colleague and friend and a fantastic nurse, and so we felt it right to pay tribute to her in a way that she would have liked, she was a real lover of flowers and plants. This space will allow patients to have some reflective time in a non-clinical environment when they have tough decisions to make and will also allow our nurses and doctors  some respite when they need just a few minutes to themselves to deal with the emotions of the day."
Jackie Matthews, Chair of The League of Friends, said: "This was a project that we were passionate about supporting. As the hospital's own independent charity we are dedicated to supporting the staff and patients of Liverpool Women's, and we feel that the Garden of Hope and Serenity will be of enormous benefit to both."