Up and down the country, between the 17th and 23rd June 2019, Children's centres, maternity units and breastfeeding support organisations are celebrating Breastfeeding Awareness Week. Merseyside is no exception to this.
During this week, Merseyside's Children's Centres, maternity units and Alder Hey will be hosts to a variety of events. These events are aimed at raising awareness of breastfeeding babies and infants and celebrating the support services Merseyside has to offer.
Over the past number of years Merseyside has seen its breastfeeding rates increase. Organisations such as Liverpool Bambis, Knowsley Bosom Buddies, Sefton's Breastfeeding Support Service and Wirral's Home Start Breastfeeding Support have been providing information and support to families in maternity units and in local communities, with excellent results.
Breastfeeding Awareness Week, held annually, brings together these organisations and invites families to celebrate with them in a week long timetable of events over the county.
Unless specified, there is no need to book places, just simply turn up and enjoy. The invite to events is open to everyone including breastfeeding families past and present. If you are a 'family to be' you are more than welcome and breastfeeding support staff will be on hand at each event to answer any questions you may have about breastfeeding your baby.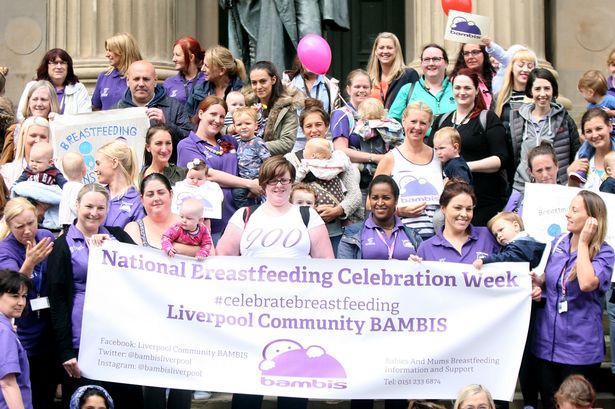 Celebrating Breastfeeding Awareness week (2016)
Benefits of Breastfeeding:-
Studies have shown that babies who receive human milk are less likely to be at risk of:
Asthma , coeliac disease, developing cancers, diabetes, diarrhoea, ear infections, gastroenteritis, heart disease, meningitis, obesity, urinary tract infections. (La Leche League).
There are also environmental benefits as breastfeeding does not create any plastic packaging waste
Breastfeeding is the biological norm and babies expect to breastfeed. Women from all over the world are able to breastfeed. There is lots of information on breastfeeding, there e are also lots of myths- but 99% of mums can breastfeed their babies with the right help and support. Problems that do occur are usually able to be solved by accessing one of the local or national support networks.
Rachel Maudsley – Liverpool Bambis Breastfeeding Support Coordinator at Liverpool Women's Hospital, says "Merseyside can boast excellent, qualified breastfeeding support provided by local mothers who are formally trained to support and give information. It is amazing to be part of that. Breastfeeding Awareness Week sees families and supporters able to come together and celebrate health for our future generations".

The timetable of events kicks off with a group photograph on the steps of St George's Hall, Monday 17th June. After which will be a short walk to Chavasse Park for a family picnic. (Please bring your own Picnic).
AlderHey, Whiston, Liverpool Women's and Ormskirk hospitals will feature display stands providing lots of breastfeeding information. Liverpool University will also be taking part with staff and student information and messages.

Each organisation is available for more information.
Liverpool Bambis - 0151 233 6874 or Bambis@lwh.nhs.uk

    @bambisliverpool

Knowsley Bosom Buddies - 0151 244 3269
Sefton Breastfeeding Support - 0151 291 8024       
Wirral HomeStart breastfeeding - 0151 608 8288