A group of dedicated Merseyside nurses, including staff from Liverpool Women's, got the festive shock of a lifetime when Everton boss Roberto Martinez gatecrashed their surprise tour of Goodison Park.
The Blue-nosed nurses, who had been invited to the Club's stadium under the pretence that their hospitals had put them forward to attend a corporate event, had no idea of the surprise that was in fact in store.
Expecting to be attendees at a conference, the 28 special guests were actually whisked off on a stadium tour by Everton legend Graeme Sharp.
And if that wasn't enough, as the party reached the first team dressing room they were greeted by the Toffees' chief who stepped out from his office to break the news that they were Everton's latest Blue Heroes.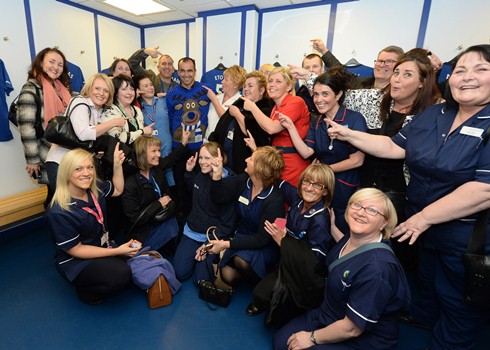 After much excitement and shrieks of delight, Martinez told the devoted nurses that they were all invited for a special three-course dinner in the Club's premier Dixie Dean Suite to reward them for their remarkable dedication to caring for the region's most vulnerable.
Each of the nurses was presented with a special gift from the manager and a Blue Hero award.
Martinez said: "It's one of those days that we, as a football club, are so proud to be able to give some good feeling back to many, many special people. What they do on a daily basis is so important and so vital for everyone in the community, for everyone in the city and Merseyside as a whole.
"For us to highlight many Evertonians that are special with their commitment and time on a daily basis and affecting so many families in the right manner and in special times is wonderful. Working in a hospital is a significant time for anyone, it always shocks you when you have to be in a hospital and people like the Blue Heroes that we recognise today make that time different and what they give back is quite unique.
"We've been delighted to be able to recognise them for what they do and wish them a very special Christmas."
The surprise was the latest in the Club's Blue Crimbo campaign, which sees Everton recognising some of the most deserving members of the local community.
Each hospital in the region was invited to nominate Evertonian nurses who deserved special recognition - or those who will be spending this Christmas caring for people in need.
Among the 28 nominees was Michelle Morgan, Head of Clinical Audit and Interim Head of Patient Experience at Liverpool Women's, said: "I would just like to say that I had an amazing day and felt so valued and proud to work at Liverpool Women's Hospital. It was amazing to meet Roberto Martinez and to meet old favourite players like Ian Snodin, Graeme Sharp and Graeme Stuart. The tour of the stadium was great and a real treat to go into the dressing room and get a feel for what it must be like for the players on match day. The meal was beautiful and the company of all other trusts from around the region was lovely."