Two midwives from Liverpool Women's hospital have returned this week from a life-changing trip to Tanzania, where they helped deliver babies in a local maternity unit where all midwives have to rely on is buckets of water.
Delia Jepson and Cheryl Stanley, who both appeared in the Channel 4 series "One Born Every Minute" swapped the modern facilities of the Women's Hospital for the more basic conditions of Kiomboi Hospital in rural central Tanzania, to support WaterAid's biggest ever appeal, 'Deliver Life'.
The midwives made a huge impact in Tanzania and their memory will live on for a lifetime as one little girl was named Cheryl, after the Liverpudlian who delivered her. Both the midwives also accompanied newborn baby boy Ezekeli and his proud mum Elizabeth Kitundu home to their village where the family gets their water from digging a hole in the river bed.
Following her return to the UK, Delia said: "I feel quite humble to have met such dedicated midwives who have had to work in such a challenging environment.
"The absolute highlight of the trip for me was taking Elizabeth and her baby Ezekeli back to their village. A midwife's bond with a mother when she delivers her baby is indescribable anyway so going back with her, meeting her family  and seeing where they collect their water was amazing."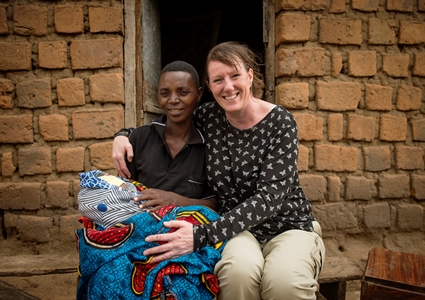 At Kiomboi Hospital Delia and Cheryl worked shifts alongside their Tanzanian peers, Ester Mang, Julianna Msofe and Daniel Paul, where they gained hands on experience into how challenging it can be for midwives to provide a safe environment for mothers and babies when there is no running water.
Cheryl said: "It was an amazing experience and a real privilege. I thought it would be a sad trip but it was amazing seeing the difference that having clean water will make to the midwives working in such hard conditions every day. I really saw how essential water is to midwives doing their job safely and how that if you can't keep things clean then you are really doing more harm than good to mothers and their babies."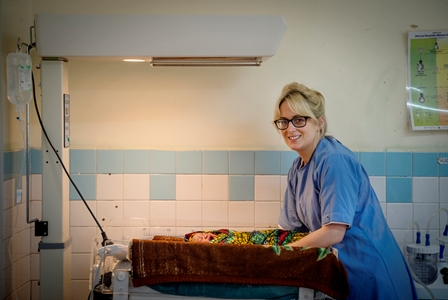 Their first duty in the morning was to fill the buckets that line the ward with water to last throughout the day. Then as they worked, the midwives had to wash their hands between patients by pouring out a small teapot of water. They also got to see new mothers having to take their first wash after giving birth in water fetched from a nearby river.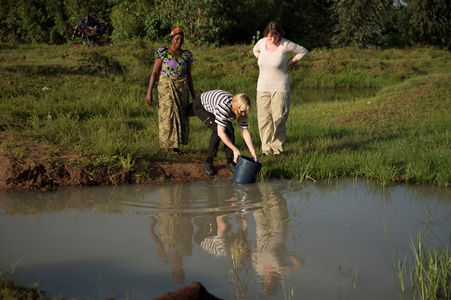 During their time at Kiomboi Hospital, Cheryl and Delia met with Mary Samson Gunda, a young mother whose baby, Lucy, was born in the hospital and was recovering from sepsis, a severe infection that is caused by unhygienic environment. The hospital sees around one case a week of sepsis in newborn babies or their mothers many of which prove fatal. Every minute around the world a newborn baby dies from infection caused by a lack of safe water and an unclean environment.
The situation faced by midwives in Kiomboi Hospital sadly is not unique. In Tanzania around one in three health care facilities do not have any access to safe water. Another third, it is estimated, do not have water 24 hours a day. In Sub-Saharan Africa 42 per cent of healthcare facilities do not have clean water.
The 'Deliver Life' appeal, will be the biggest campaign ever run by international charity Wateraid, whose mission is to improve access to safe water, sanitation and hygiene, all over the world.
The appeal will run until 10th February, and every £1 given by the UK public will be doubled by the UK Government, so WaterAid can reach twice as many mums around the world. As well as putting water into Kiomboi hospital, WaterAid is working in communities to provide a clean water supply so that mums can protect their vulnerable newborns from the danger posed by unhygienic environments. The appeal will see the lives of up to 130,000 mums transformed. The staff, patients, mothers and their babies at Kiomboi will have access to safe water and proper toilets for the first time.
Barbara Frost, WaterAid Chief Executive, said: "The arrival of safe water and sanitation at Kiomboi Hospital, backed up with hygiene training to staff, will transform conditions there and save so many mothers and babies' lives. Without clean water and safe toilets, a hospital just cannot provide a safe environment and so many lives are needlessly lost to infection. By supporting our Deliver Life appeal, Delia and Cheryl have played a part in protecting mothers and babies in Kiomboi hospital and in the many communities where WaterAid works for years to come."
For more information please go to http://deliverlife.wateraid.org/