Endometriosis is the second most common Gynaecological condition for women in the UK and Liverpool Women's is aiming to provide better treatments and experiences for women with the help of robotic surgery.
Endometriosis is a chronic condition affecting a significant number of women of reproductive age (1 in 10) and develops by forming growths of endometrial tissue (lining of the womb) in areas such as the ovaries, fallopian tubes, pelvic walls, bowel, ureters and/or bladder. During March each year, Endometriosis Awareness Month takes place to highlight the challenges women with the condition face.
On average, it takes 7.5 years for a woman in the UK to receive diagnosis of endometriosis, despite it being the second most common gynaecological condition in the UK.
Manou Manpreet Kaur, Consultant Gynaecologist at Liverpool Women's NHS Foundation Trust and who specialises in Endometriosis said: "We have learnt a lot more about this disease but there is still a lot undiscovered. It is important that we all work together to raise awareness. Women shouldn't be afraid to talk to one another about their periods, how they are feeling, as this is how the normal from the abnormal will be revealed. Educating young girls in schools and investing in research too is a key part in helping to look at the different pathways of diagnosis of this disease and to eliminate unrevealed symptoms. The more we can understand, the earlier the diagnosis."
Treatment options available to women include pain killers in the form of non-steroidal anti-inflammatory drugs, alone or  in combination with hormonal agents, such as the combined oral contraception pill, progesterone only pill, progesterone containing coil or implant. Additionally, GnRH agonist injections to induce a temporary menopause like state can be utilised for a limited time period. The former medicinal approach often helps those experiencing mild affects. For those who have more severe endometriosis, involving ovarian lesions (chocolate cysts) or deep infiltrating endometriosis, lesions that have grown into areas such as the bowel wall, surgery is often the next available treatment option. As the growth of endometriosis lesions forms scarring around organs, especially those that are vital to the women's reproductive system, careful precision to remove them is required.
Recently, Liverpool Women's Hospital received the da Vinci X Robot, a piece of advanced technology that allows the surgeon to perform robotic assisted surgery similar to that of laparoscopic surgery but with several unique benefits such as a magnified and more stable 3D-vision, greater manoeuvrability of the instruments leading to an impeccable precision when performing surgery.
Gary Price, Chief Operating Officer said: "Robotic assisted surgery will make a big difference for our patients. We are really pleased to have the da Vinci robot at LWH. We will be piloting this system over the next year and our Gynaecology and theatre teams are embracing this new innovative technology. As well as improving and shortening recovery times after procedures for patients, the robot will also provide an opportunity for our staff to use cutting edge treatment and technology – we are all really excited by it."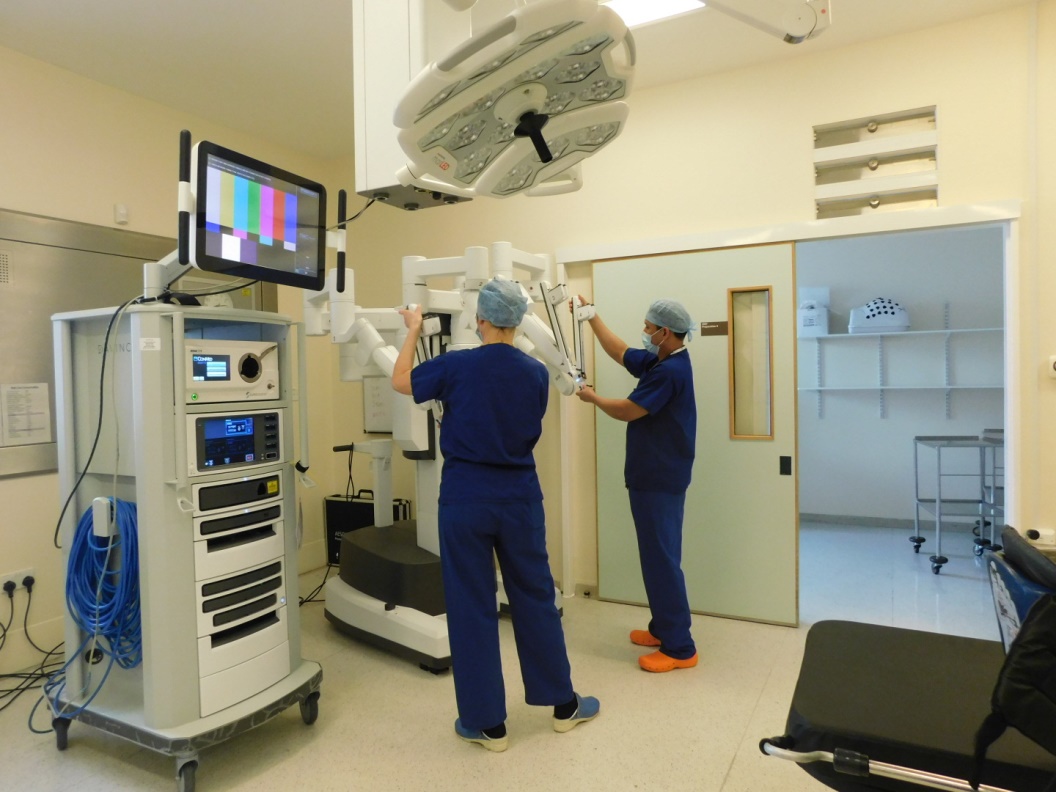 Mr Thangesweran Ayakannu, The Robotic Lead for the Gynaecology Unit at Liverpool Women's Hospital said: "Robotic assisted surgery has evolved into a technology that will dramatically change the way gynaecologic surgeries are performed. The aim of this project is to use innovative robotic surgical techniques to give the best patient experience for both benign and malignant gynaecological conditions. Robotic surgery plays a pivotal role in endometriosis and benign gynaecology which can be offered as a multidisciplinary surgical team approach to provide superior clinical outcomes and safe patient journey".  
It has been postulated that robotic-assisted surgery for deep infiltrating endometriosis (DIE) improves precision of the surgical procedure for complex and advanced stage cases.
As a result of the use of the technology, a robotic-assisted endometriosis resection may offer the following potential benefits:
Ability to accomplish technically challenging dissection
Shorten the length of operating time
Less tissue trauma and less post-operative pain
Lower rate of complications
Low blood loss
Low likelihood for blood transfusion
Low rate of conversion to open abdominal surgery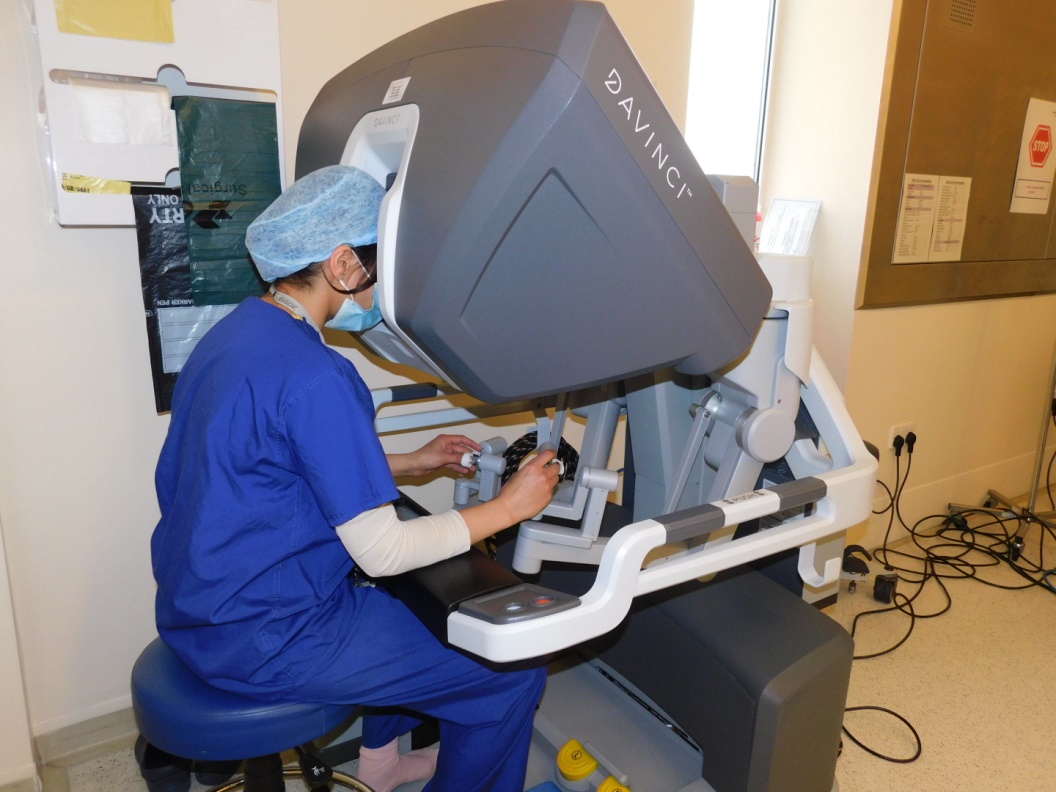 Manou added: "This tool is changing the way how complex gynaecologic surgeries are performed. It filters out the essential human hand tremor for example, with a magnified 3D-stereotopic immersive surgical view that allows for the precision that is required to remove endometriosis from some of the very delicate organs which are affected without causing damage to them or to the nearby structures".
"Robotic assisted surgery will not only help our Endometriosis patients, but also women with other gynaecological conditions, for example requiring a complex hysterectomy which could be for benign reasons such as a fibroid uterus, or for womb cancer, or women requiring removal of fibroids with preserving the womb, or to provide minimally invasive prolapse surgery, or those having recurrent miscarriages/preterm birth with failed vaginal cerclages, offering them a transabdominal cerclage which constitutes applying a stitch around the cervix at a higher level."
A woman who is suffering with endometriosis can experience the following symptoms:
Severe period pain that interferes with daily activities, such as not being able to leave the house to go to school or work, or you go but are not able to function very well despite taking a regular amount of pain relief.
Pain during or after sexual intercourse
Abnormal bleeding and pain the lower abdomen
Lower back pain
Pain when opening your bowel or passing urine when on your period
Difficulty getting pregnant
If you are experiencing any of these symptoms and have been doing so over a course of a few months you should visit your GP to look at how you can be helped. Start to keep a regular diary, this will help to identify, also include any abnormal changes to your stool consistency.