Thanks to the Alice Hiley Memorial Trust Liverpool Women's is the only hospital in Merseyside and Cheshire to have an Olympic Brainz Monitor.
The Alice Hiley Memorial Trust donated the ground breaking piece of equipment to Liverpool Women's Neonatal Unit.  The Monitor which costs £16k will benefit many newborn babies at Liverpool Women's Hospital.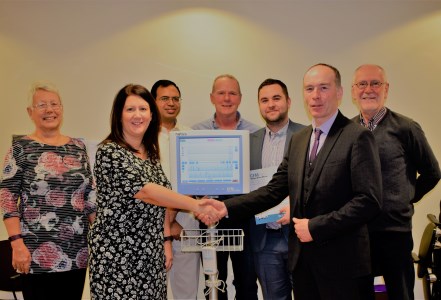 The Alice Hiley Memorial Trust was established in memory of baby Alice who was born at Liverpool Women's in July 2010.  Alice lived for only six hours after she was born with a rare congenital disorder. Ever since, Alice's parents Heather & Andrew, and grandparents Anne & Roger, have worked tirelessly to ensure her memory lives on by raising money and setting up the Alice Hiley Memorial Trust.
 
The Trust raises money to fund equipment to help other babies born with life-threatening conditions, it also supports the families of babies requiring special medical care in the North West.  In 2011 they purchased a Giraffe Incubator at a cost of £14,600 for the Neonatal Unit and to date they have raised a spectacular £32k+, benefiting many babies across the North West.
 
Bill Yoxall, Clinical Director, on the Neonatal Unit at Liverpool Women's said "We are so grateful to receive this fantastic piece of equipment. It will be the first time we will have full-time access to this type of machine on the Unit.
 
The CFM monitors activity within the brain.  Monitoring the brain waves is really helpful in guiding the treatment of babies who have suffered injuries to their brain.  We use it particularly when there has been concern about whether a baby has been deprived of oxygen during birth, but we can also use it in other conditions such as meningitis.  Having this equipment on site will benefit many babies and their families, helping us continue to achieve the best possible outcomes"
 
Heather Hiley, Chairperson of Alice Hiley Memorial Trust & mother to Alice said "We would like to thank all our supporters that have helped us achieve the levels of fundraising enabling us to being able to donate this Brain scanner. We are so pleased that we can truly make a difference to babies within the local area.