A new knitwear shop has been launched in Liverpool Women's Hospital, which sells knitted clothing for all new-born babies, to raise money for the hospital's Neonatal Unit.
The shop, which is run solely by volunteers, sells items of clothing kindly made by an army of 'close-knit' helpers, such as hats, jumpers and blankets, and has replaced the knitting stalls previously located in the hospital's main reception after the success of sales asked for bigger demand. The new shop can cater for more stock, and brings happiness to the new families passing through the hospital who make a purchase.
The launch was a huge success, and saw over 100 volunteers, alongside staff, come together to celebrate the event with entertainment and refreshments. Jan Walton, mother of the world's first all-female surviving sextuplets at Liverpool Women's former Oxford Street hospital also attended, after being influential in the Neonatal Appeal when it was launched in April 1992.
Jan, who was the Volunteer fundraising manager at the hospital for 23 years, said:
"I am delighted Liverpool Women's Hospital have a dedicated shop space to sell the donated knitting – now the Charity can benefit from more funds that will be raised. It was fantastic to see so many people at the event to celebrate the launch, and I'm so pleased to have worked alongside the charity for the last 36 years."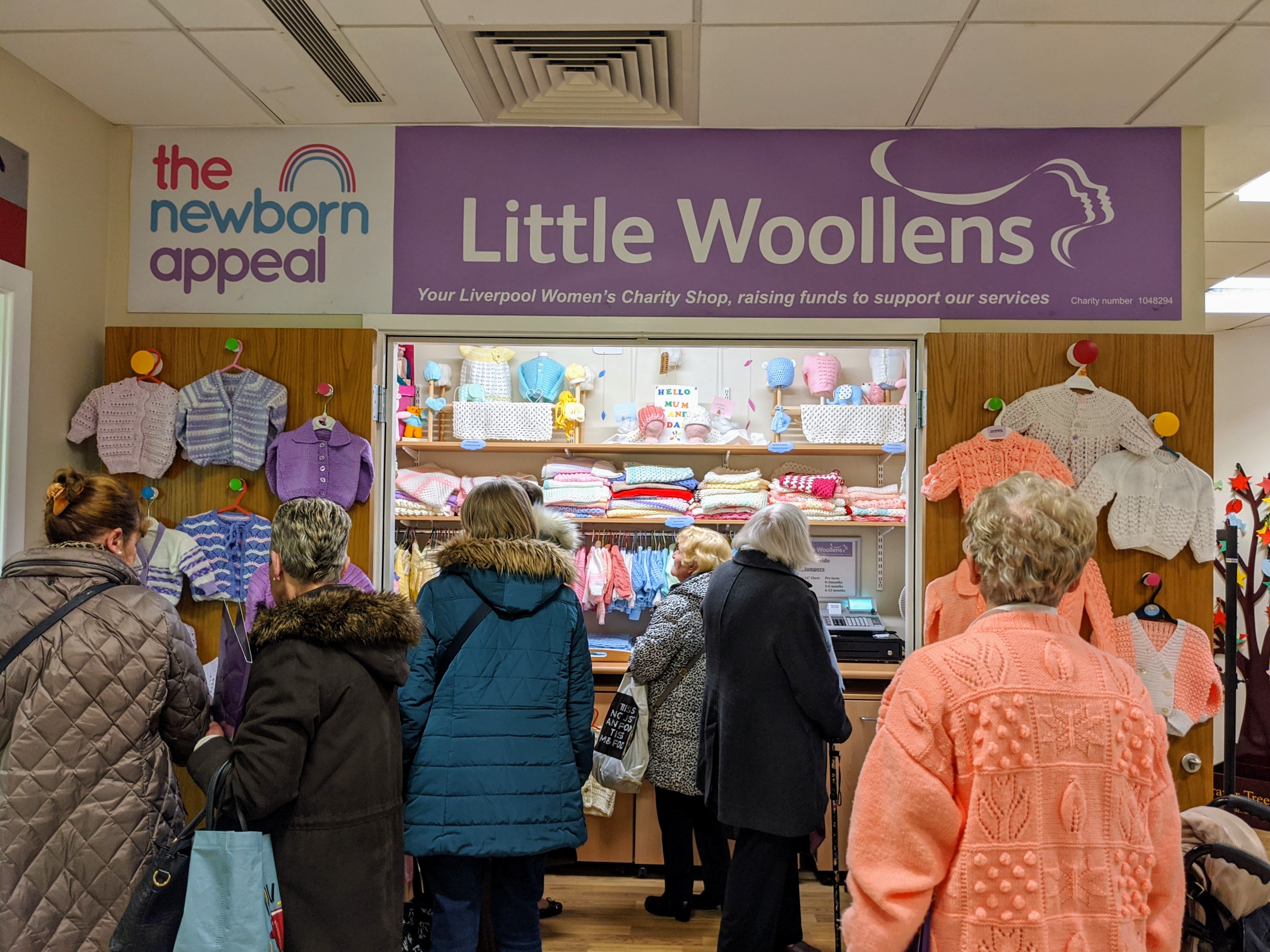 Fundraising manager, Kate Davis, also spoke at the event about the impact the knitting has had on the Neonatal Appeal.
She said, "The selling of knitted goods for the babies born at LWH has been integral to the success of our fundraising.  On average we raise over £22k a year from the sales and are hoping to increase sales substantially now we have the dedicated shop space. All monies raised go to the neonatal unit caring for preterm and critically ill babies and contributes to making the facilities the best they can be for families. We simply couldn't do this without our team of knitters and of course our volunteers who run the shop. They make a difference to families facing the most difficult times when their child is on the neonatal unit. The launch of the shop celebration is our way to say thank you."
The new Little Woollens Shop is located in the main reception of the hospital, and is open 10:30am-2pm dependent upon volunteers. Customers are asked to ring ahead before visiting if they want to purchase a particular item.
As well as the shop launch, the Hospital also launched a new children's book, 'Kara and Lyla's Big Surprise', as a way of creating a lasting memory for people's time at the hospital whilst also raising funds. The book sees two young cats arrive at Liverpool Cats' Hospital to meet some new kitten additions to their family. All profits from the book will go back into the running of the hospital's services.