A consultant obstetrician from the Trust has been awarded £850,000 to further develop an award-winning device that could save the lives of women all over the world.
Professor Andrew Weeks and his team, including the University of Liverpool Department of Clinical Engineering and Liverpool IP, won the Research Innovation Award in this year's North West Coast Research and Innovation awards, for inventing a medical device called the PPH Butterfly, for the treatment of Post-Partum Haemorrhages (PPH).
Following this win, the National Institute of Health (NIHR) i4i are to fund Andrew and his team to further develop the device over the next three years.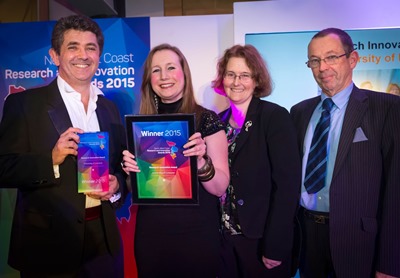 Left to right: Andrew Weeks (Consultant Obstetrician) Caroline Cunningham (Research Midwife) Alison Hardy (Business Advisor) Peter Watt (Design Engineer) at the Academic Health Science Network awards dinner.
Andrew, who is also a Professor of International Maternal Health at the University, said: "The award is a tribute to partnership working with the University. Whilst as a clinician I could see a clinical need, it took many collaborators to produce the final product such as design engineers. This funding is even more fantastic news for the project, and will really help us to undertake further design work, develop a training package for those who will use it and more."
PHH is a common maternity emergency affecting 40,000 British women each year. Globally, it remains a major cause of death and is responsible for around 25% of the 289,000 maternal deaths annually. Although common, its management has changed a little over the last 40 years and remains somewhat crude. The current initial treatment is experimental and takes some time to work. It is only if bleeding continues that definite action is taken to determine the cause and give specific treatment, but this requires invasive examination. The PHH Butterfly, although simple to use, aims to not only stop the bleeding immediately, but also to diagnose its source.