Liverpool Women's Hospital have announced that Channel 4's BAFTA-award winning documentary series, One Born Every Minute, will return to the city this Autumn.
Response to the show's most recent series, which was filmed exclusively at the Liverpool hospital, was so good that producers never thought about going anywhere else to film next year's series of the popular baby show.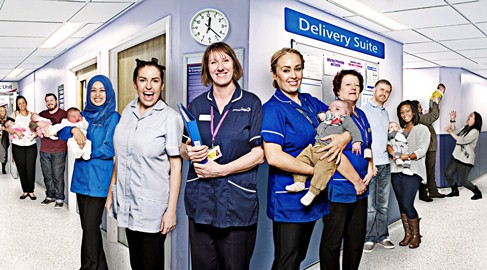 Kathryn Thomson, Chief Executive at Liverpool Women's, said: "We're delighted that Channel 4 have asked us if they could come back to Liverpool Women's to film with us again. Our staff, mums and facilities came across brilliantly first time around and so we're not surprised that the producers have chosen our hospital as their preferred location again. The response we've had from viewers and through social media has been amazing, with lots of people telling us how great our staff are, and many women asking how they can pursue a career in midwifery."
"If you are due to give birth during September, October or November and would like to find out more about taking part in this series, or ask any questions, please do not hesitate to contact Dragonfly on 07981107343 or 07720760290 or email sophia.thompson@dragonfly.tv."
Previous series of One Born Every Minute have been filmed in Bristol, Southampton and Leeds and over 150 babies have been born on camera since One Born Every Minute first aired in 2010. Filming from the reception desk to the neo-natal ward; from the operating theatre to the birthing pool, this life-affirming and tender series captures the beginning of life as it really happens. It observes the dramatic, emotional and often funny moments that go hand in hand with bringing a new life into the world, from the perspective of the soon-to-be parents and family, as well as the hospital staff.
One of only two hospitals in the UK dedicated to the care and treatment of women and their families, Liverpool Women's Hospital is an internationally recognised Centre of Excellence, boasting some of the most respected clinicians in their field.
No person who has not given consent will be included in the series, and patients are assured that the level of care that they will receive during this period will not be affected by the filming of the series.
Ms Thomson continued: "We would like to reassure our women that they are, of course, under no obligation to be filmed. The Trust and Dragonfly both fully appreciate that the birth of a child is an extremely special time in a family's life and will be working together to accurately reflect what it is like to work and give birth in one of the country's leading maternity hospitals. We'd like to reassure our mums-to-be that, whether they choose to be filmed or not, it will not affect the excellent level of care they each receives at Liverpool Women's."
Sarah Swingler, Head of Dragonfly West, said: "We are really looking forward to bringing One Born Every Minute back to Liverpool Women's, with its great mix of professionalism, warmth and humour. Even in recent series, One Born continues to tell compelling and magical stories: mums who make it to the hospital with minutes to spare before delivery, home births, twins and triplets, sick babies defying the odds, dads racing to the hospital, miracle IVF babies, and even a baby born in the hospital car park."
Delia Jepson, a midwife at Liverpool Women's who starred in the last series of One Born Every Minute, said: "We're delighted that One Born have chosen to come back and film with us once more. The last series was fun to be a part of and our mums and families came across brilliantly. We're looking forward to showcasing Liverpool Women's again!"
 
Over the next few weeks, representatives from Dragonfly will be visiting clinics, antenatal classes and parent classes to meet women and families who expect to give birth at Liverpool Women's during the filming period. There is no obligation to talk to them at all, but they would like to hear about your hopes and expectations and also give you the opportunity to ask questions and get more information.
Any research undertaken by Dragonfly is confidential and talking to them, or the hospital, does not oblige you in any way to be involved in the documentary series. However, for those women and families who may be interested in being involved in the series and having a filmed record of their special event, Dragonfly would be especially interested in talking to you. To find out more, call Dragonfly on 07981107343 or 07720760290 or email sophia.thompson@dragonfly.tv.
Liverpool Women's would like to invite anyone who has concerns or questions about how the filming of One Born Every Minute might affect them to call its Patient Experience team on 0151 702 4353.