A Liverpool geneticist has been nominated for the award of Fellowship by the Academy for Healthcare Science, in recognition of the contribution she has made to the work of the organisation.
Angela Douglas, Scientific Director of the Cheshire and Merseyside Genetics Laboratory Service at Liverpool Women's NHS Foundation Trust, will be officially awarded the Fellowship at a ceremony this coming Spring.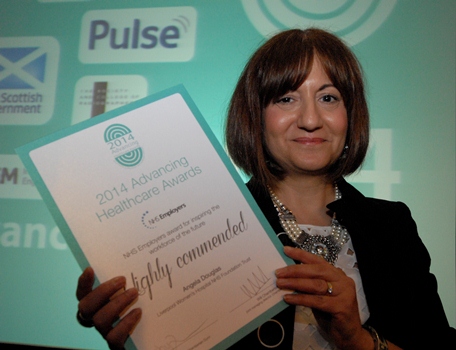 Mrs Douglas said: "To be awarded a Fellowship of the Academy for Healthcare Science is such a huge honour for me. I'm extremely passionate about what I do and I believe that the genetics service we deliver at Liverpool Women's Hospital will have a massive impact in the future of healthcare. With the 100,000 Genomes Project picking up momentum, there's never been a more exciting time to be involved with genetics. I'm very much looking forward to receiving this award later this year and I'm excited to see what the future holds for genetics."
Mrs Douglas was named Healthcare Scientist of the Year, the top honour, at the 2015 Healthcare Science Awards. She was given the award in recognition for her work in helping to ensure safe and sustainable healthcare science diagnostic services across England, her involvement in the national 100,000 Genomes Project and her overall contribution to the field of clinical genetic science. Angela, who has spent more than 35 years working in the field of genetics in the NHS, was also listed in the Health Service Journal's 'Inspirational Women of the Year' in 2014, and was highly commended at the HealthCare Science Awards the same year for inspiring the workforce of the future.
John Stevens, Chairman of the Academy for Healthcare Science, said in a letter to Angela: "On behalf of the Board of The Academy for Healthcare Science, I am delighted to offer you a Fellowship of the Academy.  This is in recognition of the work, vision, support and input that you have given to help the organisation in its development and growth in one or more of these key areas; to the formation, development, running or ideals and standards of the AHCS, to the promotion and development of key aspects of healthcare science and in providing excellence in UK healthcare."