Julie Taylor, a volunteer with Liverpool Women's Macmillan team, has won the accolade of Merseyside Woman of the Year for Achievement at the prestigious Merseyside Woman of the Year Event.
The hugely popular event, held at the Crown Plaza Hotel, is sponsored by Women in Business and recognises women of all ages and from all walks of life for the amazing things they have done.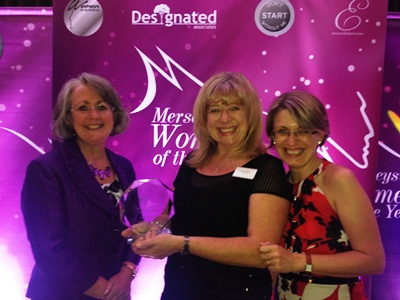 Hundreds of guests heard how Julie of Blundellsands, Crosby, has helped thousands of cancer patients all over the country with her "bags of love" after responding to a small advert placed by Liverpool Women's Macmillan team in a local shop.
The team had appealed for volunteers to make washable fabric shoulder bags for cancer patients receiving pain management medication via a syringe pump called a driver.  These are awkward to carry, usually in plastic carrier bags, and were often dropped and damaged causing distress to patients. The Macmillan team thought that a special shoulder bag would help.
After spotting the advert Julie made 100 shoulder bags with children at a Crosby school where she helps out. All were made in different, attractively patterned fabrics, much of it donated by Trends in Crosby, and each bore a label with the name of the child who had made it.
Patients were delighted with the bags and moved by the fact that people were thinking of them.  Other schools and adult groups got involved. Soon Julie's volunteers were making bags for other Liverpool hospitals.
In 2012, Julie's project went national via her website and Facebook page. This now has a national community of volunteers with "likes" from people donating fabric, volunteers making bags and health staff, all sharing stories and feedback.
Julie has helped volunteers nationwide to set up schemes with local hospices and hospitals, More than 4,000 grateful patients have already benefited from Julie's non-profit organisation, Making for Charity.
One patient told her: "You have brought so much warmth to people in a very cold place."
Said Macmillan Nurse Dawn Gray, who attended the awards ceremony with colleague, Macmillan Nurse, Shelagh Roberts: "Without Julie's vision, enthusiasm and drive this project would not have started, and now it is flying all through her good ideas and determination.
"It has exceeded every expectation and continues to do so. Julie is truly inspirational she has created community networks covering the country and has had interest from overseas.  Without Julie this would be impossible."
Said Rita Doyle, Macmillan Palliative Care Nurse Specialist at the Linda McCartney Centre: "It is hard to find the right words to properly explain the difference these bags make. The syringe pumps are heavy and awkward for patients to carry around, especially when they are not feeling well.  It is a wonderful example of the value of voluntary and charitable work having a direct benefit to local people."