Joan Ellard, a midwife at Liverpool Women's Hospital was this week presented with her prestigious JOHNSON'S Baby Mums' Midwife of the Year Award 2014, part of the Royal College of Midwives (RCM) Annual Midwifery Awards.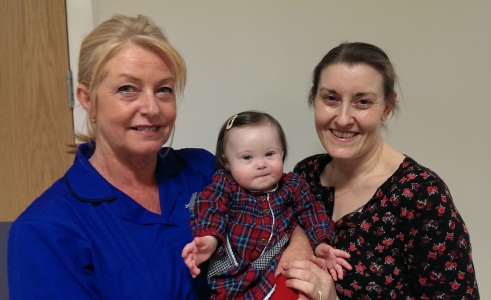 She was nominated by proud new mother, Karen Garvey who says she will never forget the care she received from Joan when she gave birth to her baby, Poppy, at Liverpool Women's in April, 2013.
The award recognises the incredible work from outstanding midwives across the country. It is the only one which allows mums from all over the country to nominate midwives who they feel provided exceptional support before, during and after the birth of their child. The entries were then put through a rigorous judging process by a panel including senior Royal College of Midwives members who held an award ceremony in London on January 22nd which Joan attended with colleagues.
Joan helped Karen give birth to her baby on Liverpool Women's Midwife Led Unit, designed to be as relaxing as possible with birthing pools, soft lights and music.
Says Karen: "Joan was fantastic.  She made it perfect. She was so lovely; she made us all feel relaxed, including my partner, Peter.
 "I was nervous as I am 41 and it was my first baby, But Joan put me at ease right away explaining to me how an amazing experience having a baby in a pool would be. She said we were in it together, every little contraction, and talked me through every step of the way.
"After Poppy had been born and Joan checked her over, she told us that there were indications that Poppy had been born with Down's Syndrome. She was so lovely with us, she helped us bring our baby into the world and then had to tell us this. It must have been so hard for her.  But she was my Poppy and I loved her. Joan arranged for a doctor to come and examine Poppy and talk to us straight away.  Joan had to do some after care with me and made sure Peter and Poppy were settled and then took care of me. Afterwards, Joan took the three of us to a ward, introducing us to the sister who would be taking care of us. She hugged us both before going back to the unit. Later that day she rang the ward from home and asked someone to pop in and check we were alright because she hadn't been able to stop thinking of us. I think Joan deserves to be Midwife of the Year because she is a truly special lady and I am honoured that she helped us bring our daughter into the world."
Said Joan: "I am absolutely overwhelmed that Karen and other people have taken the time to nominate me.  It validates what I am doing.  It is such a privilege to be there at such a personal and special part of a woman's life."
Louise Silverton, Director for Midwifery at the RCM, said: "These awards not only allow mothers to thank their midwives for their exceptional work but pay tribute to the fantastic job they do every day.  Midwives often go the extra mile to help make the experience of having a baby a memorable one.  With recent challenges, their role is more important than ever and exemplary midwives continue to work tirelessly to provide outstand care to mothers."
Working on the popular Midwife Led Unit at Liverpool Women's, Joan supports mothers who want to have as natural a birth as possible although the unit is only a corridor away from high tech help if it is needed.
Once a factory worker, Joan, decided she wanted to be a midwife after having her second child, Liam, now 19.  Helping her in labour was a former classmate who had become a midwife.
"She made the experience so special that I decided I wanted to a midwife too" says Joan.  "I was just standing all day in a factory, making things and she was doing something special like that. I realised that I wanted to be there like that to make things special for other women."
Some thought it was a bold dream.  After all, she had left school without qualifications and had been working in a factory but Joan made it her mission to qualify to be a midwife by the time she was 40.
She began to make enquiries about how best to set off on her long journey. While still off on maternity leave with her third child, daughter Kate, now 17, she enrolled on an Access course while helping in a children's nursery. She won a place to study nursing at Edge Hill University and began working at Liverpool Women's just before her 40th birthday.
She hopes her story will encourage other women to follow their dream. "Mine is not a job, it is a delight.  How can it not be when you are helping mothers and their families and then see the beautiful product."