Liverpool Women's has joined up with a family to improve the experience of bereaved parents following the loss of a baby.

Jax's Imprint is an initiative named after Amy and Michael Tan's baby boy and they hope that their work will help other bereaved parents cope with their loss by easily but sensitively identifying them following their loss, giving them the space and privacy they need at such a devastating time.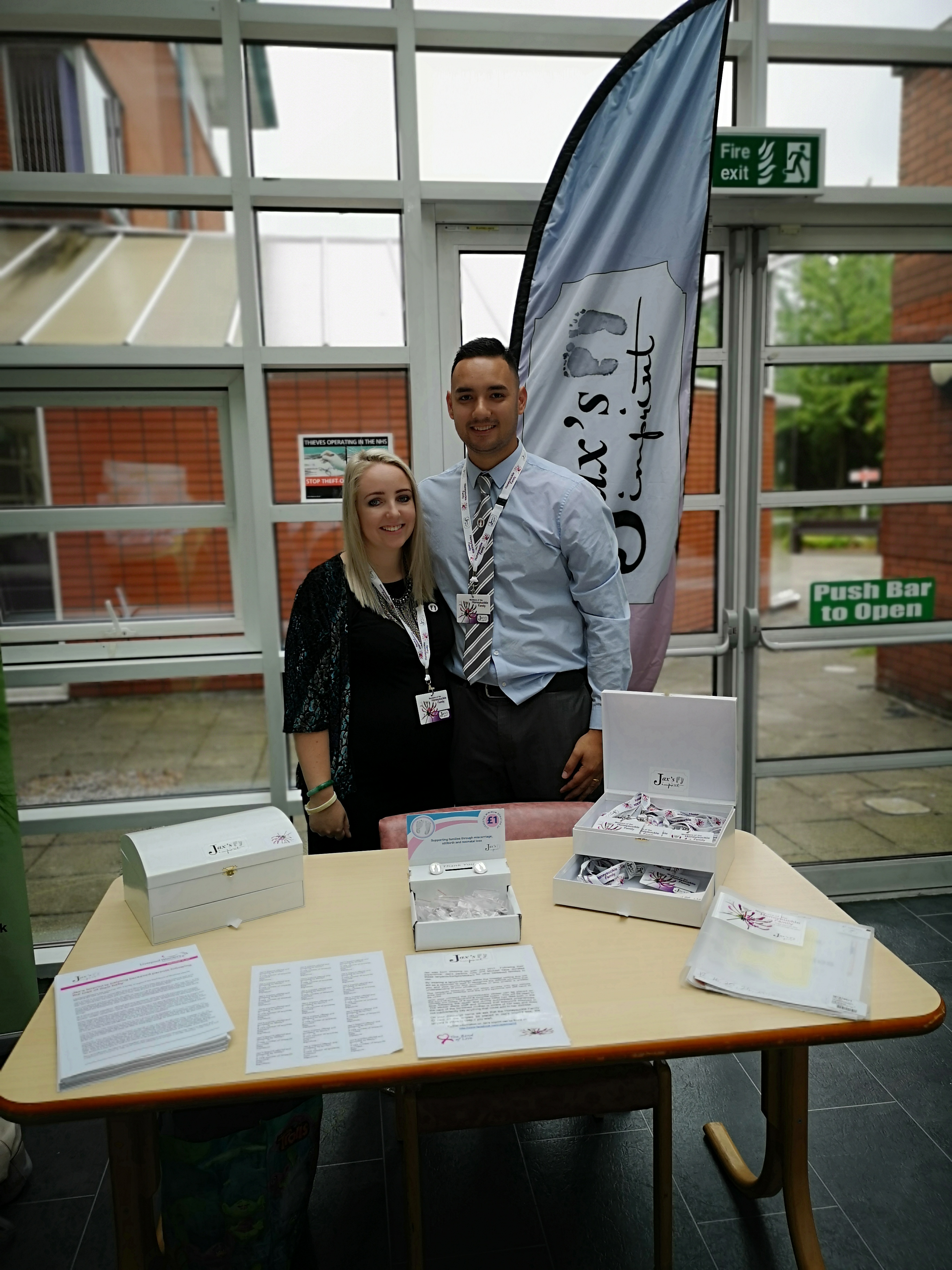 Amy and Michael lost their baby boy Jax after he was born at 36 weeks gestation on 20th July 2017. In the hours and days that followed, Amy and Michael went through a very upsetting time, firstly with the obvious heartbreak of dealing with their loss but also due to the issues that arise when being within a hospital environment and encountering other people who may not immediately be aware of what they were going through.

As a result of their experience, Michael and Amy developed Jax's Imprint with the support of Liverpool Women's Honeysuckle Team. Jax's Imprint consists of a vanity style bereavement box which contains lanyards, badges, identification cards, and stickers for hospital notes, all featuring the Jax's Imprint logo.

When bereaved parents lose their baby, rather than be put in the difficult position of having to explain their loss to staff, patients, and visitors who may be unaware, they will have the option to wear a lanyard or badge that will sensitively identify them when they are at Liverpool Women's which will help to avoid any unnecessary distress at their most difficult time. It is the hope of Michael, Amy and the Honeysuckle Team that all of the Jax's Imprint items will also act as a gentle reminder to be extra caring and to pay extra attention to families suffering a loss. All of the items produced for Jax's Imprint have been funded entirely by the generosity of Amy and Michael Tan, and Jax's Imprint supporters.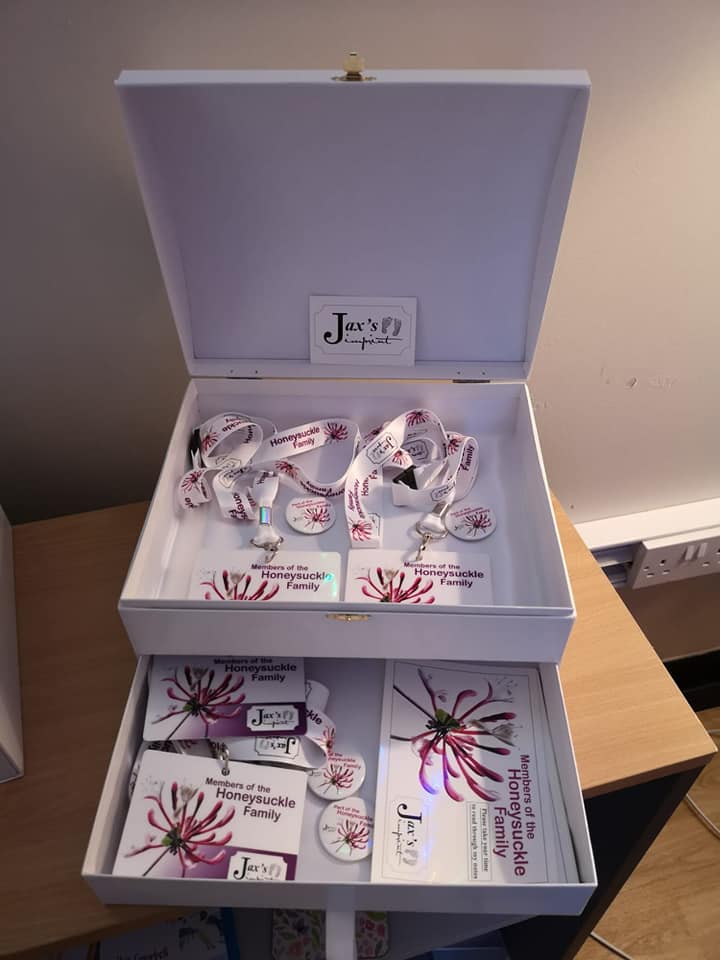 Commenting on their experience that led to Jax's Imprint being developed, Amy said: "Throughout our stay in the hospital during and after the birth of Jax, myself and Michael were supported every step of the way by the Honeysuckle Team. The care and compassion they provided us with as a family including Jax, was second to none. We will never be able to thank them enough for everything they did and continue to do for us.
"However, if the items we have provided on behalf of Jax's Imprint would have been available to us, our experience would have been made a lot easier. Following the birth I became unwell and had to attend the hospital to be assessed. Having to relive your experience over and over again explaining your situation and saying the words 'I lost the baby' is excruciating. One incident involved a consultant asking how the baby was because as far as they were concerned I was a woman that had become unwell after giving birth. This is why these materials are so vital, as the stickers and lanyards instantly indicate that the family has endured a loss and for staff and visitors to be aware of the heartbreak and fragility of the family."

Amy and Michael decided to work together with Liverpool Women's Honeysuckle Team to develop and implement Jax's Imprint to help other bereaved parents and families in similar situations. Their hope is that providing these subtle items to identify bereaved parents will allow other patients, hospital staff, and visitors to respect their privacy and will help avoid sensitive emotional encounters when they are within the hospital environment.
In particular, the Jax's Imprint stickers for use on the maternity notes of patients to help clinical staff immediately identify a bereaved family, is a key aspect of the initiative. The stickers will be placed on the notes of a bereaved mother and used for members of staff to identify their loss in the time following the death and during possible future pregnancies.
Michael added: "We hope that our charity and implementation of Jax's Imprint within Liverpool Women's will help raise awareness of baby loss, in particular to those in and around the hospital. We feel that our experiences after our loss were unnecessary and made myself and my wife very uncomfortable and upset. We hope that by providing our items to bereaved parents we can help reduce and eventually eliminate these events occurring. Our Jax's Imprint items have been developed so that hospital staff and any visitors in and around the hospital are able to identify a family as a bereaved family. We believe that this will ensure that people are more mindful when speaking to these families and where necessary staff take their time to read through maternity notes to ensure that they are aware of the specific situation before speaking to these families."
After being supported by the Honeysuckle Team to develop Jax's Imprint and after going through an approval process within Liverpool Women's, the Trust is pleased to announce that due to Amy and Michael's dedication, hard work, and patience, Jax's Imprint is now being implemented and rolled out across Liverpool Women's, starting with a promotional launch on 17th July at the North West Baby Loss Conference which is being hosted at Liverpool Women's and also marks the week of what would have been Jax' 1st birthday.

Michael and Amy intend to be considerably active during their launch of Jax's Imprint with promotional activities and social media campaigns so that they can educate as many people in Liverpool and the surrounding areas about what they are doing and why.

Following their initial launch, Amy and Michael are hoping to raise further awareness across the country about Jax's Imprint, with a view to officially setting up a charity in their baby boy's name, and they also have the ultimate objective of encouraging other NHS Trusts to adopt the same approach as Liverpool Women's and introduce Jax's Imprint to support all bereaved parents dealing with their loss.

Michelle Morgan who leads the Patient Experience Team at Liverpool Women's, added: "It has been a long and emotional journey for Amy and Michael and although it has taken some time to achieve their goal, we are delighted that Jax's Imprint is now able to be rolled out across Liverpool Women's and that it will help to keep the memory and legacy of Jax alive to benefit other families for many years to come."


If you would like to know more about Jax's Imprint, please email Amy and Michael Tan at: jaxsimprint@outlook.com
You can also call Amy on 07949775686 or Michael on 07792862096 for more information.
Finally, you can also find Jax's Imprint social media pages on Facebook at www.facebook.com/JaxsImprint/ and Instagram at @jaxsimprint