The Hewitt Fertility Centre at Liverpool Women's Hospital, one of the largest of its kind in Europe, has helped an Afghanistan veteran become a father, after he sustained life-changing injuries when he stepped on an IED (Improvised Explosive Device) while on patrol in the notorious Helmand Province.
Ex-Marine Commando Andy Grant, 26, who nearly died while serving in the conflict in Afghanistan is celebrating the birth of his first child, daughter Alba, with partner Leonie.  The joy of her arrival at Liverpool Women's Hospital on October 14 was something he thought he might never experience as he lay in hospital for three months after sustaining shattering injuries in the notorious Helmand Province in 2009, which led to his leg being amputated. He was just 20.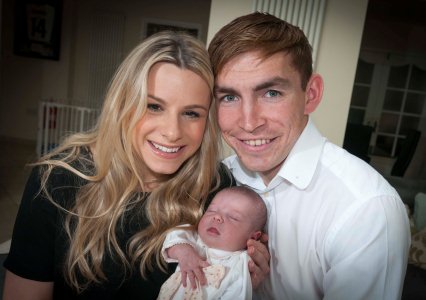 Because of Andy's life-changing injuries, the couple who live in Liverpool needed help from the Centre in order to have a baby. Leonie has two children from a previous relationship who Andy loves as his own but they wanted a child together. Thanks to successful IVF treatment at The Hewitt Fertility Centre which has been marking the UK's first National Infertility Awareness Day this week, their dream came true. Says Leonie: "They were wonderful. They make you feel as though you are the most important people. We can never thank them enough for what they have done for us."
With baby Alba to give him new hope, Andy feels he is now starting another chapter in his life with Leonie,  Payton, 8, and Brooke, 6.
Said Fertility expert and Consultant, Charles Kingsland, Clinical Director of The Hewitt Fertility Centre:  "We were in awe of Andy and all he had been through whilst serving his country and his tremendous fight back.  We are delighted that because of our expertise we have been able to achieve Andy and Leonie's dream of a successful pregnancy."
Andy's life changed forever when on an IED (Improvised Explosive Device) while on patrol in the pitch dark, his femoral right artery was cut when he lost a large chunk of his thigh and he could have bled to death if a medic hadn't acted quickly to stem the bleeding with a tourniquet.  Andy was airlifted to Camp Bastion with 27 injuries and spent two weeks in a coma, waking up in hospital in Birmingham where he spent three months and eventually had a leg amputated. But blessed with a positive attitude, courageous Andy refused to give up on life which he would now face as an amputee, "I lost my mum from leukaemia when I was 12. When something like that happens to you, nothing else is as hard. It made me strong."
The couple met five years ago after Andy began fighting back from his injuries by offering to do a mile-long sponsored walk in London for SAAFA , the Armed Forces Charity which provides lifelong support for the forces and their families. As fate would have it, Leonie worked for the charity and they fell in love.
That first walk was an important milestone on his road to recovery. Since then Andy has kept on distance walking and running with such grit and determination that at the recent Invicta Games - motto "I am the Master of My Fate" - he gained two gold medals, one for the 400 metres and another for the 1500 metres plus a bronze for the 4x100 relay.
Said Andy: "If someone had told me when I was first injured that I would one day win two gold medals and be cheered by 5000 people and get a standing ovation I wouldn't have believed it. Nor that I would become a dad and be so happy with Leonie and our family."
As British troops finally left Afghanistan this week, it has been an emotional time for Andy thinking of colleagues who didn't come home.
"I am lucky to be alive" he says, holding baby Alba, thousands of miles away from the dust and danger of Afghanistan.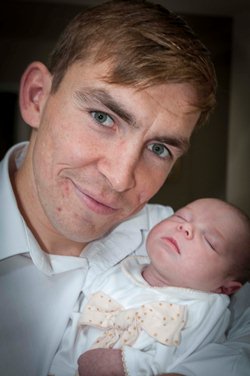 Andy had joined the Marines Commandos at 17, serving in Iraq for a year before going to Afghanistan in 2008.  "I had a feeling before I went that something was going to happen to me. I was injured in 2009 which was the Marines' deadliest year, we lost 109 marines in that year alone. 
 
"My mate in front of me jumped over a ditch and hit a trip wire which set off two IEDs. It was all surreal," says Andy. "I remember saying again and again 'have I still got my arms and legs?' and then the helicopter arrived and the next thing I knew was waking up in hospital in Birmingham."
Andy endured nearly thirty operations during the following three months.
Many more months of mental and physical rehabilitation followed. But after struggling for nearly a year with his leg which was virtually useless through nerve damage and other injuries, Andy made the brave decision to have it amputated so that he could be fitted with a prosthetic limb and begin to lead a normal life. He has never looked back. Now he shares his positive attitude to life by being an inspirational speaker for businesses and other organisations after first being asked to speak to pupils at prize day for his old school.
He and Leonie organised a Summer Ball in Liverpool last year raising, £20,000 for Help for Heroes and have raised £5,000 for the Royal Marines which is this week celebrating its 350th birthday.