Former Olympic champion cyclist, Chris Boardman, dropped by Liverpool Women's Hospital to show his support to cyclists taking part in an upcoming charity ride.
'To The Women's On Two Wheels' will take place on 21st and 22nd June, and will see 20 staff members from Liverpool Women's Hospital cycling 110 miles from Birmingham Women's Hospital back to Liverpool Women's to raise money for the 'Kitty Appeal'. At the same time, staff from the Midlands hospital (the country's only other hospital dedicated to the care of women) will make the same journey in reverse.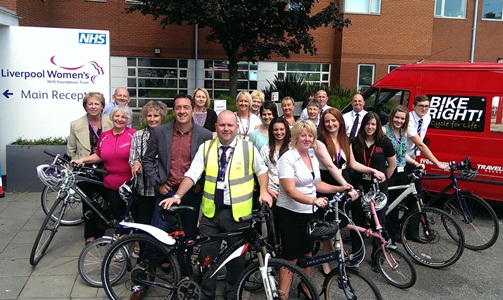 Boardman, who won Britain's opening Gold Medal in the Barcelona Olympics in 1992 told the group how much he enjoyed learning about the challenge they were going to take on. He said: "I love seeing non-cyclists choosing to go on an adventure. It's for a great cause, and the people doing this ride will remember the experience for the rest of their life."
"They'll all be nervous about completing the whole ride, but doing it together will give them the courage and belief to get them through. If the ride encourages each participant to continue to cycle that will be even better! An event like this can lead to a whole change in lifestyle. The great thing about cycling is that anyone can do it – it's even easier than walking."
Rachel Plant, Liverpool's brand new Lady Mayoress will be joining the cyclists on their ride. She said: "My nephew was born at Liverpool Women's Hospital but was poorly. He needed care on the Neonatal Unit where the staff were fantastic. This ride is a lovely opportunity for me to give something back to the hospital for all they did for us."
The cyclists will cycle 50 miles on the first day, camp overnight, and then complete the final 60 miles on the Sunday, finishing at Liverpool Women's Hospital.
Training and support has been given from 'Bikeright!' and Travelwise. All of the team have been training hard in the build up to the ride, having covered a collective 3,343 miles in total. Refreshments and kit on the day will be supplied by the event's main sponsors, OCS.
One member of the team said: "Since I started training 12 weeks ago I've cycled 639 miles, burnt off 18,211 calories, lost 2 stone and saved £241 on fuel, I'm really enjoying it and will definitely be keeping it up after the ride."
If you would like to sponsor the team or find out more please visit www.justgiving.com/Lisa-Masters