Baby Francesca, born at 24 weeks, spending 16 weeks and 4 days on the Neonatal Unit at Liverpool Women's Hospital recently returned home with her family.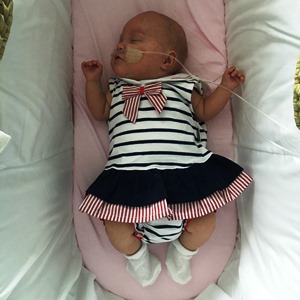 Victoria Bradley and Paul Curran were told they could not conceive naturally. To their surprise they found out in December 2015 that they were expecting a little girl. Scans showed a perfectly healthy, 'jumpy' baby and Victoria's pregnancy was trouble-free, until week 24.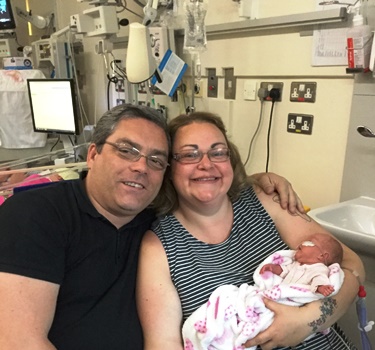 After rushing to Liverpool Women's Hospital, Victoria became aware that she was in labour. Baby Francesca was born at 9.45am, breeched, weighing 625 grams, she was not breathing and had no heartbeat. The team worked on Francesca for 6 minutes before rushing her to intensive care on the Neonatal Unit. 
Victoria said: "We were told that she was very poorly and sat day in day out with her. There were lots of ups and downs."
Francesca faced a number of issues; sepsis (3 times) collapsed lungs, numerous blood transfusions, acute kidney injury, and anaemia. She was also ventilated for 40 days then went onto other oxygen support, and she also needed laser eye surgery.
Francesca spent 16 weeks and 4 days in the neonatal unit before returning home with no lasting issues.
Bill Yoxall, Consultant and Clinical Director commented: "Baby Francesca was born at a  time in the pregnancy when the outlook for survival is very uncertain.  She faced significant challenges, but we are delighted for her and her family that she has come through these successfully and that the family are now all at home together."
Francesca is now home with mum, Victoria, Dad Paul and big sister Rebecca. Victoria said: "We can't thank the staff enough in the neonatal unit as they were supportive as well as caring. Our plans now are to get into family life and watch Francesca grow and thrive and enjoy being a family with a little miracle baby. Without the Neonatal Unit at Liverpool Women's, Francesca wouldn't have survived and her dad and I would have lost our minds."