Eva Horgan has been named Deputy Finance Director of the Year at the National Healthcare Finance Awards in central London. The prestigious annual awards celebrate excellence in financial departments across the NHS and are awarded by the Healthcare Financial Management Association (HFMA).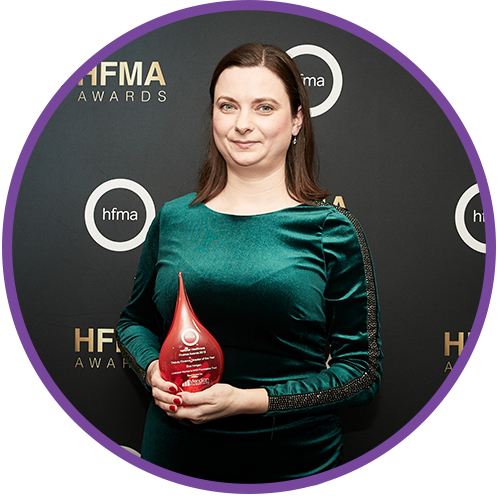 Eva Hogan, deputy finance director at Liverpool Women's NHS Foundation Trust, was chosen to receive the award from a strong shortlist from across the UK. The Awards judge organisations, teams and individual finance professionals by looking at elements including fiscal success, governance, people management, communications, ethics, sustainability and learning.
Jenny Hannon, Director of Finance at Liverpool Women's Hospital, said of the achievement: "this is hugely deserved, we all appreciate Eva's unfailing hard work and dedication at Liverpool Women's. We are very proud – well done Eva."
Eva's nomination spoke of her ability and thoroughness, the confidence those she works with have in her leadership and the support provided to those across the organisation, how on projects she has worked on since joining the Trust have demonstrated her calm and measured approach, with an obvious commitment to do the right thing by patients, staff and the NHS as a whole no matter how difficult.  It showed how Eva is always determined to deliver the best outcomes and is an asset to Liverpool Women's Hospital and a credit to the profession.
A total of eight awards were awarded, ranging from the Innovation Award to the Finance Director of the Year Award.
HFMA outgoing president and chief finance officer at Lancashire and South Cumbria NHS Foundation Trust, Bill Gregory, said: 'We were pleased to receive a very high-calibre of entries for the National Healthcare Finance Awards. NHS staff across the country are working extremely hard to innovate, lead by example, and ensure good quality healthcare. It is important to celebrate their commitment and the dedication of sector leaders. Huge congratulations to Eva Hogan for this well-deserved achievement, which once again highlights the strength of our NHS staff.'