Hundreds of staff turn out to celebrate Dedicated to Excellence 2022 at the fabulous St George's Hall
Having to settle for a virtual awards last year and a cancelled one the year before it was great to see so many staff coming together to celebrate our annual awards 'Dedicated to Excellence'. The atmosphere was electric, the venue stunning and our hosts and entertainment really set the stage on fire.
The awards celebrate the outstanding dedication, hard work and achievements of our wonderful staff. Following a very challenging couple of years it was great to see so many entries, with over 200 received.
Kathryn Thomson, Chief Executive, said: "Congratulations to all the winners on the night, it was great to see so many smiling faces together once again. The volume of entries received this year is testament to the brilliant work that goes on across the Trust.
It gives me great pride that we were able to come together under one roof to celebrate the fantastic achievements.  Once again I would like to thank our sponsors, our amazing hosts Leanne Campbell and John May, good friend of Liverpool Women's Lee Butler and Marc Kenny and his wonderful band. I'm already looking forward to next year"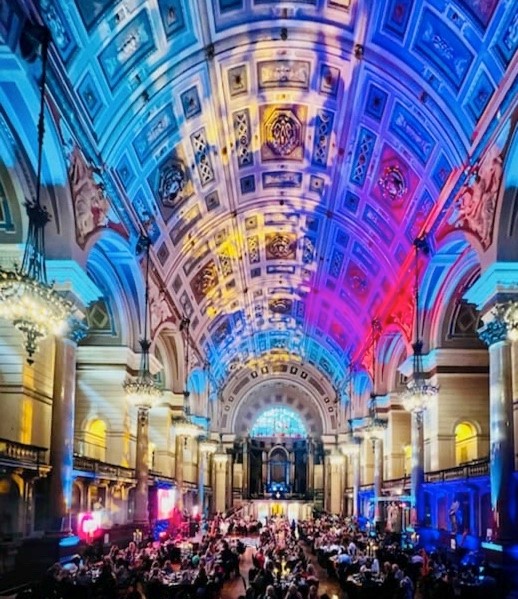 See below for a full list of winners, along with extracts from their nominations:
Clinical Rising Star of the Year - Fadzai Nyazika
As the lead pharmacist for maternity Fadzai goes above and beyond every day to support medicines safety and midwifery training.
Non-Clinical Rising Star of the Year - Bryony Jones
Bryony has an infectious enthusiasm for life and for HR which energises the whole team. She is constantly keen to learn and develop, taking on new projects and completing HR qualifications. She is a shining star.
Outstanding Contribution to Clinical Support Services - Kate Walsh
Kate has significantly improved the Physiotherapy Service, turning it into a thriving service dedicated to education and staff development for the benefit of our women.
Outstanding Contribution to Family Health - Midwifery Preceptorship Team
For providing an innovative and transformational strategy to deliver improvement and performance which is which is solutions focussed, future driven and demonstrates Trust values.
Outstanding Contribution to Gynaecology - Marwa Fakhreldin
Marwa is encouraging, caring, ambitious, engaging and an asset in supporting the effectiveness and improvement work undertaken within Gynaecology here at LWH. 
Outstanding Contribution to Corporate & Non-Clinical Services – Communications Team
In November 2021, an incident occurred outside the Liverpool Women's Hospital.  It was the job of the Communications Team at LWH to respond.  The objective was simple and this was to keep our key stakeholders - primarily our patients, visitors and staff - well informed, reassured and supported during and following the incident.
Excellence in Innovation & Research - Bringing Laser to Liverpool
The development of the fetoscopic laser ablation service for Twin-to-Twin Transfusion syndrome at LWH is an example of a highly successful innovation that will allow LWH to offer this life saving service to women.
Excellence in Working Together (Team Working & Partnerships)  - Mobile CT Scanner
The mobile CT scanner is a result of joint working between Liverpool Women's Hospital, Liverpool University Teaching Hospital, Liverpool Heart and Chest Hospital, and Agito who provide the CT.  Excellence team working by all!.
Outstanding Contribution to Patient Care & Safety - Birmingham Symptom Specific Obstetric Triage System (BSOTS)
The introduction of a standardised maternity triage system to the MAU at LWH.
Staff Fundraiser of the Year - Fionn Neary-Connolly
Elaine Neary set up the Fionn Neary-Connolly Award to raise funds in a number of ways in memory of Fionn who sadly passed away at two weeks of life from congenital heart disease.
Mentor of the Year - Lottie Greenbank
Lottie epitomises what a Training Facilitator should be. Lottie is kind, supportive, approachable and fearlessly protective of new nurses and protecting their training time. Lottie has single-handedly set up a mentor/mentee system.
Learner of the Year - Carolyn Armstrong & Amy Harrison
Successfully developed a nurse-led retinopathy of prematurity (ROP) screening programme to independently capture the retinal images of premature babies at risk of irreversible blindness.
Be Kind Award - Natalee Finn
Natalee demonstrated exceptional kindness towards families on the neonatal unit, by producing beautiful 'journey' books in her own time to bring some comfort to parents going through a difficult time.
Team of the Year - Gynae Outpatients
A multi-disciplined group of staff that work together covering various departments across the Trust, responding to extra workload, being flexible and adaptable also covering Aintree site. 
Employee of the Year - Raj Begum
Raj is one of the most kind and compassionate midwives I have met.  She offers a high standard of care, demonstrating Trust values at all times and always goes that extra mile. She manages this always with a lovely smile on her face. 
People's Choice Award  - Doris Odeh
Received a number of nominations for going above and beyond, her kindness and care and support in making women and their partners feel less anxious. 
Volunteer of the Year - Michael O'Hanlon
Has given 2769 hours of his time.
Returning to volunteer in the post room in November 2020, Michael picked up his role as if he'd never been away. Delivering and collecting all the morning mail throughout the ground floor.
Foundation Award - Fionn Neary-Connolly
Chief Executive Outstanding Award
Midwifery Preceptorship Team
The Robotic Surgery Team
Kevin Dowd
Chief Executive Outstanding Leadership Award
Jen Deeney