We would like to update you on the latest progress of the Crown Street Enhancements Programme (CSE) and the Community Diagnostic Centre at Liverpool Women's.

The Crown Street Enhancements Programme at Liverpool Women's was established to deliver a number of exciting projects designed to improve safety, as well as the experience of patients and staff at Liverpool Women's. There are a number of clinical risks and challenges that the Trust will be mitigating by enhancing our current site, as well as improving our compliance with clinical standards.
Improving our facilities will help to provide a better patient and staff experience whilst also providing an interim solution to tackle some of our clinical challenges.
The Trust's long-term preferred plan of re-locating and building a new Liverpool Women's Hospital adjoined to other adult acute services in the city remains the same.  However, whilst Liverpool Women's remains at its current home it is important that its services and facilities continue to be developed to deliver the best and safest care possible as well as outstanding experiences.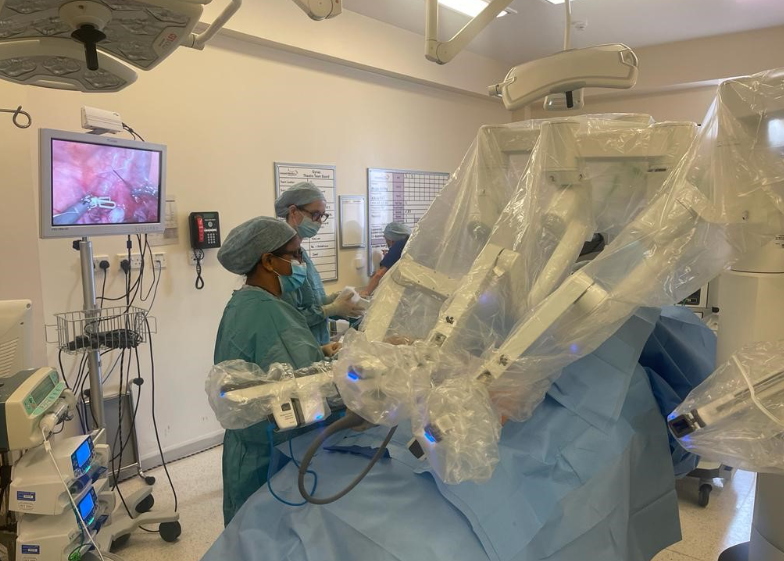 In late 2020, the Trust was successful in securing £6.5m of capital financing, to address some of the clinical challenges we face on the current Liverpool Women's site.
In 2020, the Trust began piloting Robotic Assisted Surgery within its Gynaecology service. 
The Fetal Medicine Unit (FMU) was relocated from the ground floor to the 2nd floor to allow space for the new Community Diagnostic Centre to be built. FMU moved into their new unit in November 2021.
The Trust is currently working to establish a 24/7 Transfusion laboratory at Crown Street, working in conjunction with Liverpool Clinical Laboratories (LCL).
The New Colposcopy Unit at Liverpool Women's opened its doors to patients on 9th November 2022. 
The development of the Community Diagnostic Centre in partnership with Liverpool University Hospitals (LUHFT), Liverpool Heart and Chest (LHCH) and Clatterbridge Cancer Centre (CCC) began in March 2022
LWH took delivery of a Mobile CT scanner in February 2022 and its first patient was seen on in March 2022. At the end of October 2022, the mobile CT Scanner had seen its 4500thpatient
Mobile MRI scanner is now on site and the first patients were seen 8th November 2022
Permanent CT and MRI imaging are expected to be in place by early 2023. 
The naming of the CDC has been confirmed as Crown Street Community Diagnostic Centre
The implementation of these services means that patients are benefiting from reduced waiting times and treatment closer to home along with…
earlier diagnoses for patients through easier, faster, and more direct access to the full range of diagnostic tests needed to understand patients' symptoms.
a reduction in hospital visits which will help to reduce the risk of COVID-19 transmission; and
a contribution to the NHS' net zero ambitions by providing multiple tests at one visit, reducing the number of patient journeys and helping to cut carbon emissions and air pollution. Offering a number of different services to patients including CT scans
Gary Price Chief Operating Officer said, "Working in partnership with other Trusts and national healthcare partners will produce great benefits, and because of this we now look to the future and can continue to provide excellent services not only for our patients but our local community"
Early October 2022 it was announced that the various Community Diagnostic Centers across the country have now delivered over 2 million vital checks, helping to address the backlogs from the last two years.  You can read the full GOV.UK news article on this national milestone here: click here.
Not only will the new CDC enable thousands of additional scans to be undertaken every year for patients in the region, but it will also help to reduce risk for some of our most seriously ill patients, who at the moment are transferred across the city when they need urgent scans.  
We will continue to keep you updated on both the Crown Street Enhancements Programme and the Community Diagnostic Centre as our plans progress.