A Liverpool Hospital has enlisted the support of city celebrity Claire Sweeney to help raise money for one of its specialist clinics.
The Fetal Medicine Unit at Liverpool Women's Hospital provides care and treatment to unborn babies identified as having extra needs. Staff on the unit are looking to raise £80,000 to redesign the unit and increase the amount of families it can support.
Professor Zarko Alfirevic, a consultant in Fetal Medicine at Liverpool Women's, said: "We are trying to raise funds to redesign our unit so it matches the excellent standards of care that we provide. Every year at we have around 6000 appointments where we deliver care to many families and their unborn babies.  We are a leading centre providing fetal medicine not only across Liverpool and the North West, but as far afield as Wales, the West Midlands and the Isle of Man."
"We use sophisticated equipment to aid the diagnosis and treatment of a range of conditions detected in the womb including heart and brain defects, spina bifida, growth and genetic problems. We also run busy multiple birth and preterm birth prevention clinics in which we provide a one stop service for families expecting twins and triplets. The refurbishment will mean creating a new, family friendly unit which will accommodate extra counselling facilities where families can discuss their individual care needs in a calm and relaxed environment."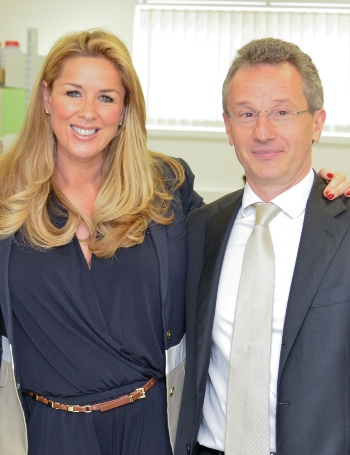 Claire Sweeney, who recently gave birth to son Jaxon at Liverpool Women's, said: "I had my baby at Liverpool Women's and it is the most fantastic hospital with the most brilliant staff. I couldn't have had better care and I am proud to be associated with the Fetal Medicine Unit refurbishment campaign."
Also backing the campaign are the Crowne Plaza Hotel and G4S.
A spokesperson for Crowne Plaza Liverpool said: "We're privileged to be supporting the Kitty as our nominated charity for 2015 & 2016, we will soon be embarking on our first fund raising challenge where our colleagues will be pushing themselves to climb Mount Snowden. We hope to raise much needed funds and help raise awareness of such a lifesaving charity through a number of planned Hotel activities."
The campaign will be launched on Thursday by the hospital's youngest fundraiser, Hope Davis, aged 9, who owes her life to the unit. Anyone wishing to make a donation, or who would like to hold their own fundraising event for the fund, should contact Lisa Masters, Charity Manager, on 0151 702 4044.