Women and families who have suffered miscarriage, stillbirth or early neonatal death at Liverpool Women's Hospital got together for Christmas Afternoon Tea last Sunday as the hospital launched a dedicated online support group.
Mums, dads, family and friends came together to enjoy an afternoon of tea, coffee, cake, pampering, and crafting at an event organised by the specialist bereavement team at Liverpool Women's, The Honeysuckle Team.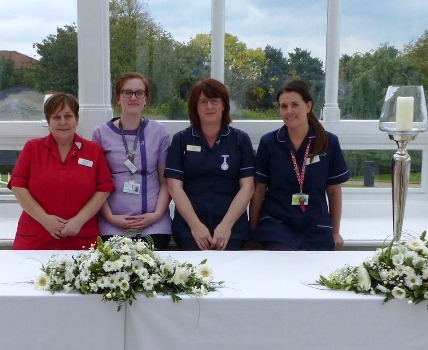 Dianne Brown, Director of Nursing and Midwifery at Liverpool Women's Hospital, said: "At Liverpool Women's we understand how traumatic and difficult it can be to lose a baby at any time during pregnancy or birth. Because of this, we set up a specialist team dedicated to supporting women and families who had lost their baby just over 12 months ago. The Honeysuckle Team will be holding many events and initiatives like this one in the future to provide comfort and support to women and families, and also break down the taboo around baby loss."
Said Sam McPartland, Honeysuckle mum: "I really enjoyed the Christmas Afternoon Tea, I really enjoyed the craft table – I had the chance to chat to other people in a similar situation to me while making special Christmas decorations. It was very cathartic. I also liked getting my nails done to look all Christmassy!"
Reps from Harvey Nichols Beauty Bazaar, gave free beauty treatments and goody bags, whilst Kreative Kirsty Beauty Therapist provided hand massages and manicures.
Said Julie Stevenson, Honeysuckle mum; "I would like to thank The Honeysuckle Team for arranging the Christmas Afternoon Tea event. I found the event very informative and both my friend and I received a warm welcome from the team, and their helpers on the day. It is comforting for parents and families, like me, who experience baby loss, to be able to meet and chat to other people who are going through the same journey, in an informal setting."
Two volunteers from the Aching Arms charity, joined the day sending parents home with a teddy bear. Aching Arms provide bears to hospitals for staff to give to families who sadly leave the hospital with no baby. The charity have recently begun working closely with the Honeysuckle Team, hoping to bring comfort to bereaved parents and families at such a difficult time.
Di Watmough and Sarah Taylor, from Aching Arms, said: "We were pleased to be a part of the afternoon to support the excellent work of the Honeysuckle Team in offering support to families whose babies have died. We were able to talk to those who attended about our charity and how we reach out to families to bring them comfort by offering a bear".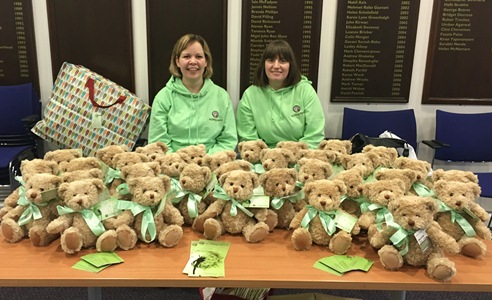 During the day the Honeysuckle Team launched their new private Facebook page 'Honeysuckle Community Page' for bereaved parents who have been cared for by the team to talk to one another, provide comfort and support to one another and to stay in touch with the team themselves.
Throughout 2016 the team will be holding a number of fundraising events to support the counselling proficiency, including a midsummer night's ball, a fashion show, calendar shoot and more afternoon teas.
If you have been affected by a miscarriage, stillbirth or early Neonatal death you can purchase footprint bracelets from the team for £2, they read "There is no footprint too small that it cannot leave an imprint on this world"
If you would like to find out more or speak with the Honeysuckle Team please call 0151 702 4151 or email sarah.martin@lwh.nhs.uk.
Background on The Honeysuckle Team
It has been almost 12 months since the Honeysuckle Team have been in post at Liverpool Women's Hospital, during this time the team have developed links with organisations such as the Stillbirth and Neonatal Death Charity (SANDS), Aching Arms, Child Bereavement UK, The Miscarriage Association, Greenacres Woodland Burials and the Women's Health and Information Support Centre (WHISC).
The team arranged this year's annual memorial service on 15th October 2015, following the service, patients and families fed back that they would welcome the opportunity to come together to support one another. The Christmas Afternoon Tea, held on the 6th December was the first for the team, as a trial only small group of patients were invited. Feedback and suggestions received from this event will support the team in developing a plan for future events. 
Keep a look out for plans the Honeysuckle have in store for 2016.