Blog by Gill Houghton, Consultant Midwife For Normality, 11th May 2016
Thank you to Ruby and Colin for sharing their very personal experiences of postnatal depression with us during tonight's episode.  After a very difficult recovery following the birth of her first child Ruby describes the symptoms of her depression and the feeling of helplessness and guilt she felt not knowing what it was or how to get out of it "I remember just apologising to my son".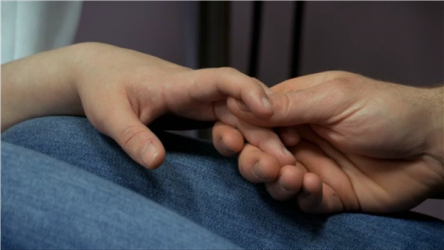 Postnatal depression is a very common and distressing condition. Whilst most women  feel a bit down, tearful or anxious at times during the first week or two after giving birth this will last for no more than two weeks and is not postnatal depression.
Symptoms of postnatal depression generally last longer, start later and affect day-to-day life and relationships with the new baby, family and friends. Some common symptoms of postnatal depression are: feeling sad most of the time, no longer enjoying things that used to give you pleasure, feeling very tired but having trouble sleeping at night, feeling unable to look after your family or feeling no bond with your new baby, feelings of guilt are also common. 
Postnatal depression can affect new mums and dads, with one in ten new mums experiencing some symptoms. Unfortunately many people affected do not seek help at an early stage as they feel they may be judged by others for not coping or criticized for not feeling happy. 
Ruby and Colin are positive and strong when they meet baby Lucy for the first time, a truly amazing couple.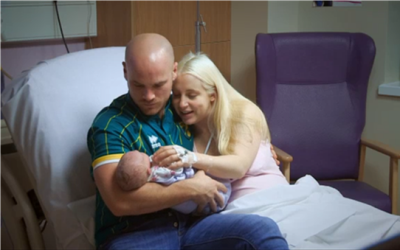 Thanks to you both I am sure many more new parents will find the confidence they need to share any concerns they have with a loved one and a health professional. It is so important not to suffer alone. Like Ruby talk to your partner, otherwise a friend or family member you trust as well as your midwife, health visitor or GP.  The more support you can get the better, treatments usually focus on social and emotional support, however, a small number of sufferers are also prescribed medication.  
If you are concerned you or your partner may be experiencing symptoms of postnatal depression please tell your midwife, health visitor or GP as soon as possible. More information on symptoms, support and the treatments available can be found NHS Choices here.