Blog by Gill Houghton, Consultant Midwife For Normality, 12th April 2016
Becoming a parent is undoubtedly one of the most life changing events a person can experience. Tonight's One Born gives us a privileged glimpse into the roller coaster journey this can be. The experience of becoming a parent will differ for every individual and we know from research that men and women may react very differently.
In tonight's episode, Midwife Kirsty explains how for a Mum-to-be parenthood can begin much earlier than for a Dad- to-be. This is because women experience a connection with their baby at an earlier stage. Women experience the pregnancy symptoms such as nausea, tiredness or even for some seeing their pregnancy test result. Women feel increasingly attached to their babies as they see their baby's image on their ultrasound scans and start to feel movements. The baby is "real" with its own preferences and routine even before it is born. Some women even know which music their baby's like, and don't like, which foods agree with them and when they like to be awake and active- yes usually around 3am!! 
Dads don't get all of these signs that encourage them to "connect" in the same way. For many guys they become a Dad during the first scan, or when they feel the baby move or hear the heartbeat for the first time. For others the baby is not quite "real" until it is about to be born and they are in the labour room. 
Tonight's One Born features three very different Dads as they complete their transformation journey into parenthood. Thanks to the wonderful couples who share their experiences with us.
John has always wanted to be a Dad. Natalie tells us how he has been putting his hands on her tummy and how she is confident he is going to be a great Dad. John is very aware that his life will change forever and embraces the opportunity as he tells us "I feel blessed to be honest". He can hardly contain his emotions in the labour room and his excitement is palpable as he meets his son, Jacob, for the first time.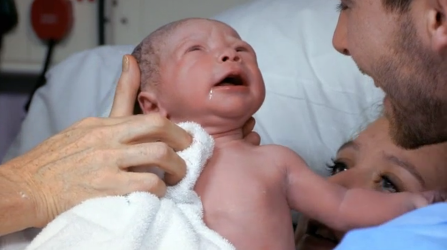 Jack finds the idea of being a Dad "really scary, scarier than being a soldier." The enormity of his responsibility as Dad hits him as he sees his beautiful Darcy for the first time.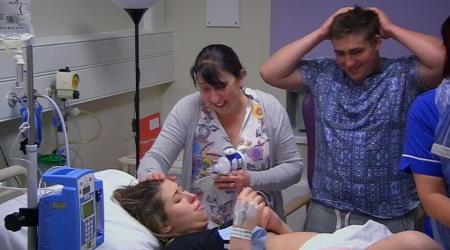 No worries Jack, you Rebecca and Darcy are well on the way to securing the traditional family of your dreams. It's brilliant to see his "learning on the job" as a parent is off to a great start as he provides his daughter with her first lesson in blowing raspberries. She'll soon be blowing them back! 
Nathan takes his responsibilities of being a Dad seriously and is very aware how important it is to his children's well-being to have "role model parents". He draws on his personal experience of having a great Dad as he embraces and enjoys his family.
I love Nathan and Billi Jo's attitude to parenting, their priority always being to show their children that they both love them. I think we can safely say Nathan has achieved his aim of "being a person his kids looks up to"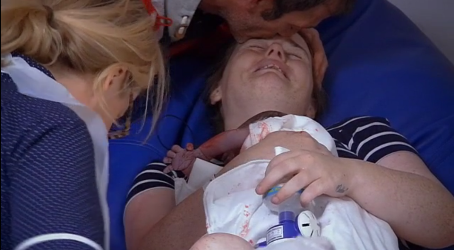 So what is the secret to becoming a good parent?  There's not a "one size fits all" answer to that. My advice is good parenting skills don't develop overnight, you will make mistakes, and your priorities will change.  Try to focus only on what's important to you now; this might be getting some sleep, getting a hug, telling someone how you are feeling. There will be new challenges; it's not an easy job. Successful parents don't do everything themselves, build a support network and ask for help. If you are in a couple don't forget each other.
There is no "right" way only your way and if it works for you then its "right".
Your life is never going to be the same; it will be different but in a brilliant way, so enjoy it. My Dad told me when I became a mum "They're not bairns for long" and he was right, it passes in the blink of an eye so don't miss a moment.
Gill x