Blog by Gill Houghton, Consultant Midwife For Normality, 29th March 2016
Thank you to the three lovely couples who chose to share their birth stories with us tonight.
Having someone you trust with you during childbirth is essential. Not only so you can share the magic of the birth itself but the support this type of relationship and connection can play is an important factor in how the birth itself unfolds. This is because a rather special hormone called oxytocin, AKA the hormone of love, comes into play during the birth of a child.  Our bodies produce oxytocin in response to touch, cuddling, kissing, laughing; you get the idea, basically anything that makes us feel safe and loved. Oxytocin makes us feel good and helps women feel positive and assists them to cope with any pain. This hormone also stimulates contractions and is therefore an important component in every successful birth story. So the birth partner has a very special duty, not only sharing the moment of the birth but to soothe the whole birth process so it goes as well as it possibly can. The great guys featured in tonight's episode had very different ways of helping things along.
Chris protected and nurtured Sarah's every need, even gently shaving her legs!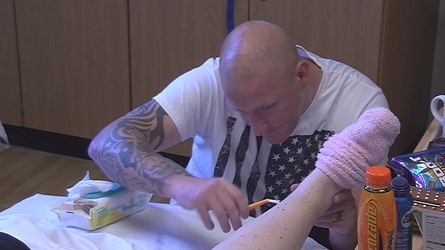 For Suzanne and Gary, humour and laughter are important and this helps allay her fears before and during her surgery.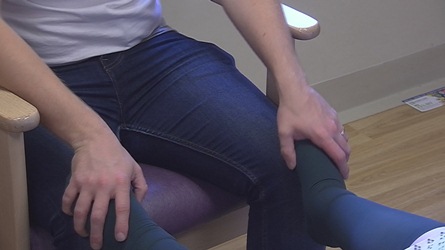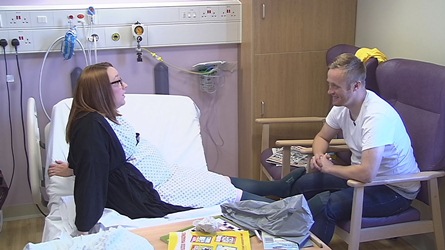 Daniel is calm and reassuring, he and Chloe hold and soothe each other as he provides quiet reassurances throughout. Chloe tells us how "Daniel makes me feel safe" and is confident "he will be right by my side" and she's right, he never waivers.
The birth room can be a very challenging place for birth partners.  It not easy seeing the person you love in discomfort and many birth partners describe feeling "completely helpless".  A common strategy midwives use to help birth partners overcome these feelings is to suggest a few practical things the birth partner can do to help. This might be providing a back massage, making sure the woman has something to eat and drink regularly, and letting her know what a great job she's doing.
For Chris, the turn of events during Oscar's birth were clearly extremely difficult for him. This is a very rare event for a birth partner to witness. Sarah's labour was high risk, complicated by blood loss and Oscar's prematurity.  
Witnessing labour and birth can be traumatic for some partners, and feeling unclear about everything is common.  Many maternity units, including Liverpool Women's, provide women and their partners with opportunities to discuss these feelings and receive information and support after the birth. These are often described as "debriefing" or "birth afterthoughts" services. If tonight's episode has raised any questions or worries for you, you can contact your local maternity unit to find out what support is available. There is also excellent support available from The Birth Trauma Association http://www.birthtraumaassociation.org.uk/
It was lovley to see Chris's courage throughout a situation he found almost impossible to cope with rewarded when he finally connected with baby Oscar. Not a dry eye, I think, when he whispers the scouse Dads mantra "I love ya mate" for the very first time.