Becoming Parents 
Blog by Gill Houghton, Consultant Midwife For Normality, 4th April 2017
We are as excited as you to see the return of One Born tonight on Channel 4, 9pm.
Becoming a parent is undoubtedly one of the most life changing events a person can experience. Having someone you trust with you during childbirth is essential. Not only so you can share the magic of the birth itself but the support this type of relationship and connection can play is an important factor in how the birth itself unfolds. This is because a rather special hormone called oxytocin, AKA the hormone of love, comes into play during the birth of a child.  Our bodies produce oxytocin in response to touch, cuddling, kissing, laughing; you get the idea, basically anything that makes us feel safe and loved. Oxytocin makes us feel good and helps women feel positive and assists them to cope with any pain. This hormone also stimulates contractions and is therefore an important component in every successful birth story. So the birth partner has a very special duty, not only sharing the moment of the birth but to soothe the whole birth process so it goes as well as it possibly can.
The experience of becoming a parent will differ for every individual and we know from research that men and women may react very differently.
Tonight's One Born features Jodie and Stephen who are becoming parents for the first time, they are not together but have a very strong, supportive friendship. Stephen provides encouragement to Jodie, helping her to be more relaxed during labour. His humour keeps her upbeat when she needs it most. 
You will see Maria and Derroll who have been through a different journey, following a miscarriage they have been through an emotional journey to get to this stage. Derroll's support is extremely touching and expressive towards Maria, he is calm and reassuring throughout.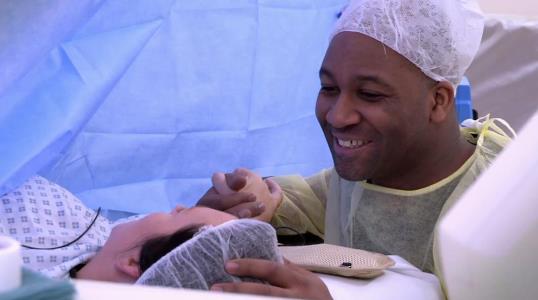 The birth room can be a very challenging place for birth partners.  It's not easy seeing the person you love in discomfort and many birth partners describe feeling "completely helpless".  A common strategy midwives use to help birth partners overcome these feelings is to suggest a few practical things the birth partner can do to help. This might be providing a back massage, making sure the woman has something to eat and drink regularly, and letting her know what a great job she's doing.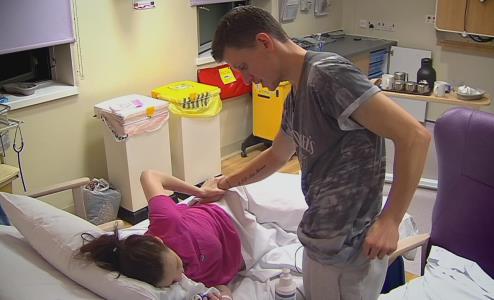 Becoming a parent will introduce new challenges, it's not an easy job, you will make mistakes, and your priorities will change.  Successful parents don't do everything themselves, build a support network and ask for help. Try to focus only on what's important to you now; this might be getting some sleep, getting a hug, telling someone how you are feeling. If you are in a couple don't forget each other.
There is no "right" way only your way and if it works for you then it's "right".
Your life is never going to be the same; it will be different but in a brilliant way, so enjoy it.
If you have been affected by miscarriage and would like to talk to someone our Honeysuckle Bereavement Team are available Monday to Friday, 8am to 4pm on 0151 702 4151 or email: honeysuckle@lwh.nhs.uk.