This year marks the 70th anniversary of the formation of the National Health Service and all over the country NHS Trusts, including Liverpool Women's and other healthcare providers are holding events to celebrate this significant milestone on the 5th July.
Over the last 70 years, the NHS has transformed the health and wellbeing of the nation and become a shining example to the rest of the world. It has delivered huge medical advances and improvements to health, meaning we can all expect to live longer lives. It is thanks to the NHS that health care for women and babies have also evolved so much over the years.
Today, the NHS still stands by its three founding principles: That it meet the needs of everyone, that it be free at the point of delivery, and that it be based on clinical need, not ability to pay.
Here at the Liverpool Women's NHS Foundation Trust we will be marking the anniversary with a day of celebrations and activities as we mark the history of the NHS whilst acknowledging our own contribution to ensuring that women and babies across the country receive the very best care today as well as driving innovation and research for the benefit of our future patients.
The anniversary gives us all an opportunity to not only look back on the achievements over the last 70 years of the NHS but also a chance to look back at our own proud history at Liverpool Women's.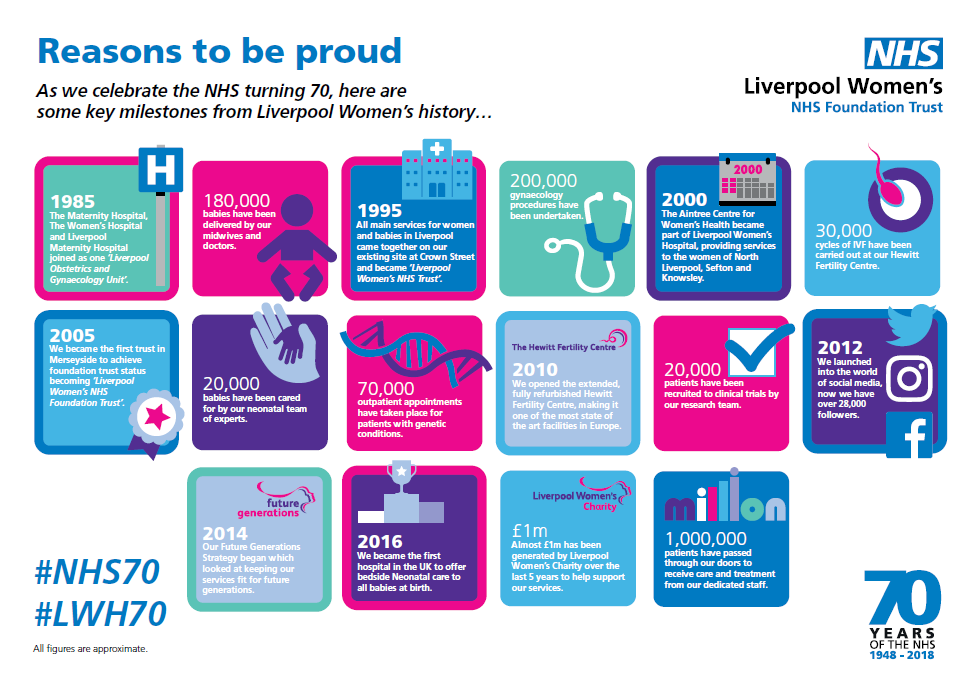 In 1985, Liverpool's maternity and gynaecology hospitals came together to become the Liverpool Obstetrics and Gynaecology Unit. Following other developments in the intervening years this was followed in 1995 as all main services for women and babies moved to our existing site at Crown Street and we became the Liverpool Women's NHS Trust.
Since then we have seen endless improvements, innovations and firsts at Liverpool Women's.
Becoming the Liverpool Women's NHS Foundation Trust in 2005, over the last 23 years we have delivered approximately 180,000 babies, undertaken 200,000 gynaecology procedures, and cared for 20,000 babies on our Neonatal Unit.
We have recruited 20,000 patients to clinical trials, performed 70,000 appointments for patients with genetic conditions, and our Hewitt Fertility Centre has carried out 30,000 IVF cycles. Over the last 5 years our Liverpool Women's Charity has also generated almost £1m to support our services.
I would like to take this opportunity to say thank you to our staff for their continued commitment and dedication to our patients and families.