Over 300 women and their families attended a Service of Remembrance held on Thursday night in Liverpool to mark the end of Baby Loss Awareness Week.
The event, which was organised by the Liverpool Women's Hospital Honeysuckle Team, took place at the Isla Gladstone Conservatory in Stanley Park for those who have suffered a loss through miscarriage, stillbirth or early neonatal death.  The evening incorporated the International Wave of Light which sees people all over the world lighting a candle at 7pm to remember all babies lost.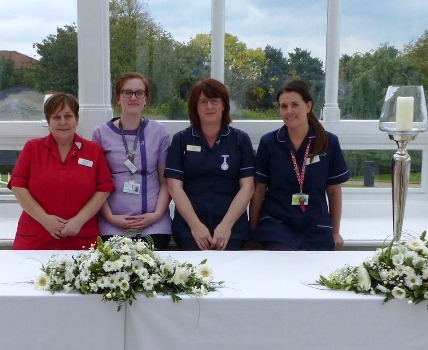 Laura Wilton, who sadly had a stillborn son over 10 years ago, has attended the annual remembrance service in honour of her little boy Lewis every year since:
"I really like coming to services like these as you can talk to people who really understand because they have been through it themselves."
Dianne Brown, Director of Nursing and Midwifery at Liverpool Women's, thinks that one of the hardest things about coping with the loss of a child is that it's not something people feel comfortable talking about in general conversation. She believes this is one of the things that makes the service that Liverpool Women's organise so important to people who have suffered the loss of a baby.
"The service is a place where you don't need to explain to anyone what you've been through because everyone has been through it themselves. You don't need to apologise to anyone for talking about the child that you've lost, you can simply talk and listen and keep the memory of your child alive with other people who want to do the same."
The Honeysuckle Team at Liverpool Women's has been set up to offer dedicated practical help and emotional support to families who have suffered a loss. The team worked with several of these families to organise Thursday's service.
Sarah Martin, a member of the Honeysuckle Team at Liverpool Women's: "It is not a religious service; it is a time dedicated for reflection and hope for all faiths and none. This year was the first year that the event took place somewhere other than the hospital, so that we could accommodate more attendees. We had a choir, a singer, and several readings from staff.  We have also created a memorial garden next to the Isla Gladstone, which will be a permanent place for families to go to remember those they have lost. We can't thank the venue staff enough for allowing us to create this designated space.  For me the most important part of the service was the input from our families. We had 4 incredibly brave women read poems in memory of their babies – these ladies also shared their stories in a pre-recorded video which you can now view online on the official Liverpool Women's Facebook page."
The service ended with a balloon release, with all families invited to release a balloon to mark their lost loved one.