To celebrate the work of teams and individuals at Liverpool Women's NHS Foundation Trust, staff, volunteers, governors and key stakeholders came together for a special evening at the Marriott Hotel, Liverpool.
The annual Dedicated to Excellence awards evening, that was this year supported, by sponsors DKP Consulting, Hill Dickinson, Law By Design, The Innovation Agency and OCS, provides the opportunity for the Trust to celebrate the achievements of each of the wonderful teams, individuals and volunteers that are a part of the hospital. Recognising the lengths that they go through on a daily basis to make a real difference to everyone involved with the hospital, patients, visitors, volunteers, colleagues. As well as acknowledging improvements in care and ground-breaking research projects that have been carried out in the hospital over the previous 12 months.
Advancements in genetic mapping for rare diseases, world first discoveries that could lead to earlier cancer diagnosis and a fertility treatment unit that ranks number 1 in the UK for reducing the risk of multiple pregnancy rates were just a handful of the significant achievements celebrated on the evening.
In a time of increasing pressures on staff and facilities within the NHS, the Trust see it as a matter of growing importance to ensure that the tireless and life-saving work that staff do on a day-to-day basis in the hospital is not only acknowledged, but celebrated.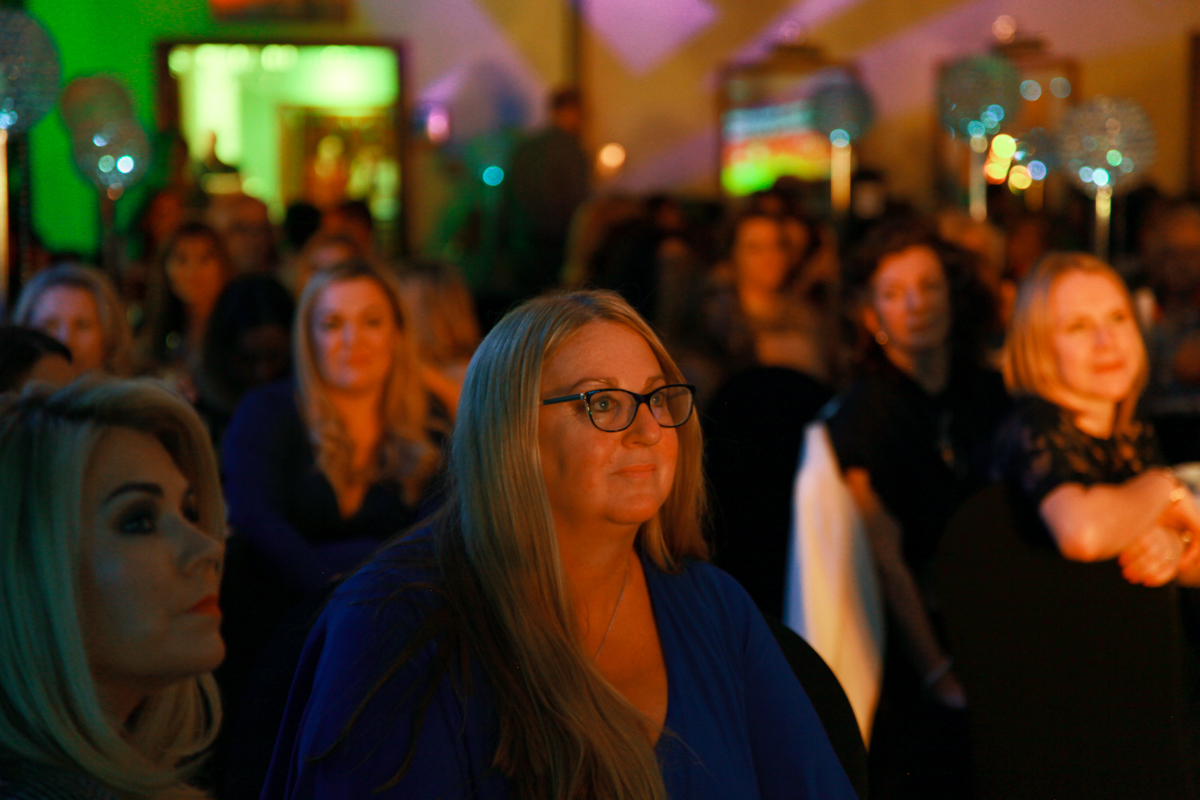 Chief Executive of the Trust, Kathryn Thompson said, "I would like to say thank you and well done to all members of staff, volunteers and governors for their hard work and dedication to Liverpool Women's over the last year. Liverpool Women's would not be the Trust that it is without each and every member of our staff going above and beyond every day.
As Chief Executive, nothing gives me more pleasure than to see our staff rewarded for their efforts, which is why tonight is such a special event and the entries received really humbled me this year."
18 awards were handed out in total to teams and individuals who showcased how they have gone above and beyond over the last 12 months. One award is judged on nominations from patients, sharing their stories and experience. The Patient Choice Award this year went to midwife Janet Burch, a touching nomination was received on how Janet was in the right place at the right time. The patient said: "I honestly credit this lady for saving my life. I was so close to the edge. I honestly don't think I would be here without her. I could never repay the kindness and support that she has given to me"
Each year Kathryn Thomson, takes the opportunity to give a special thanks to teams and individuals with the 'Chief Executive Outstanding Contribution Award'.
One went to the Liverpool Women's IT Team, who immediately upon learning about the cyber threat went above and beyond to protect the Trust, working across 24 hours for a number of days at short notice. Thanks to them and the actions taken by the team, Liverpool Women's remained unaffected by the threat and we were soon able to resume normal activities.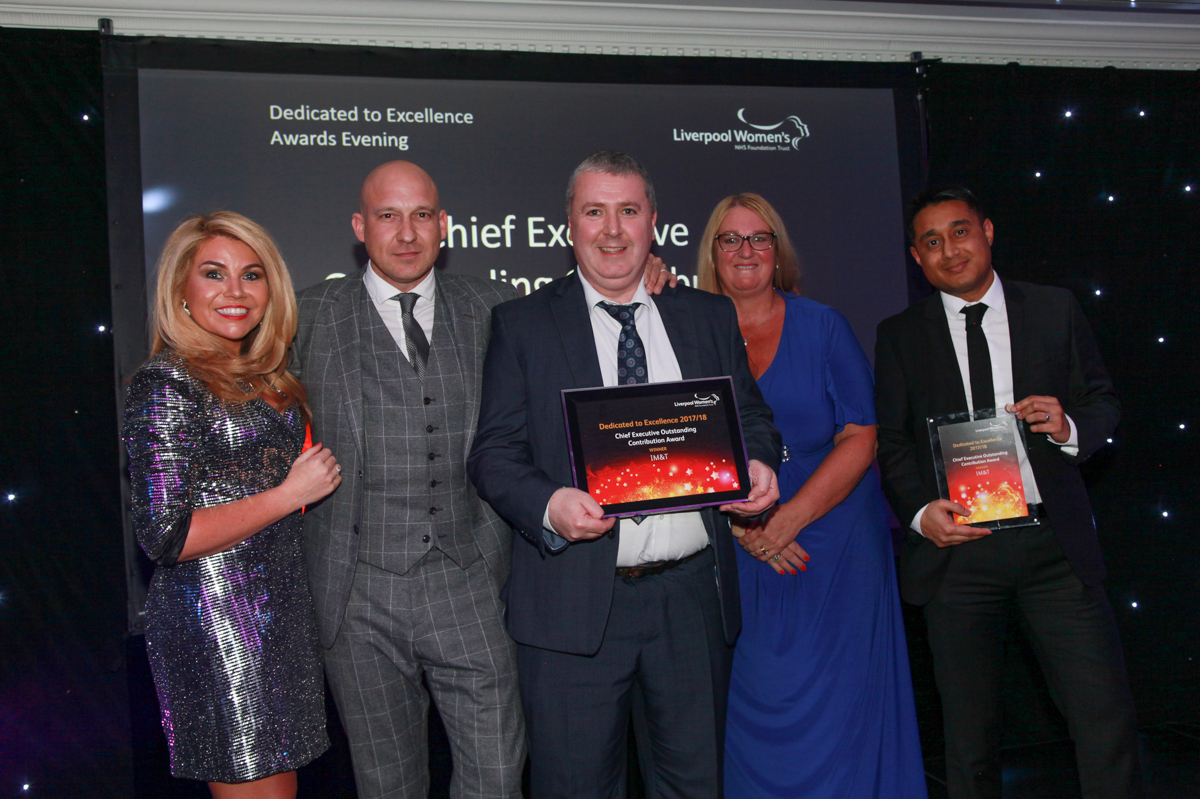 Another went to an individual who has displayed a true midwifery leader attitude over the last 12 months going above and beyond in her duties to ensure that staff and women using the service feel supported and listened to. Sarah McGrath has brought all members of the multi-disciplinary team together to deliver an outstanding midwifery service.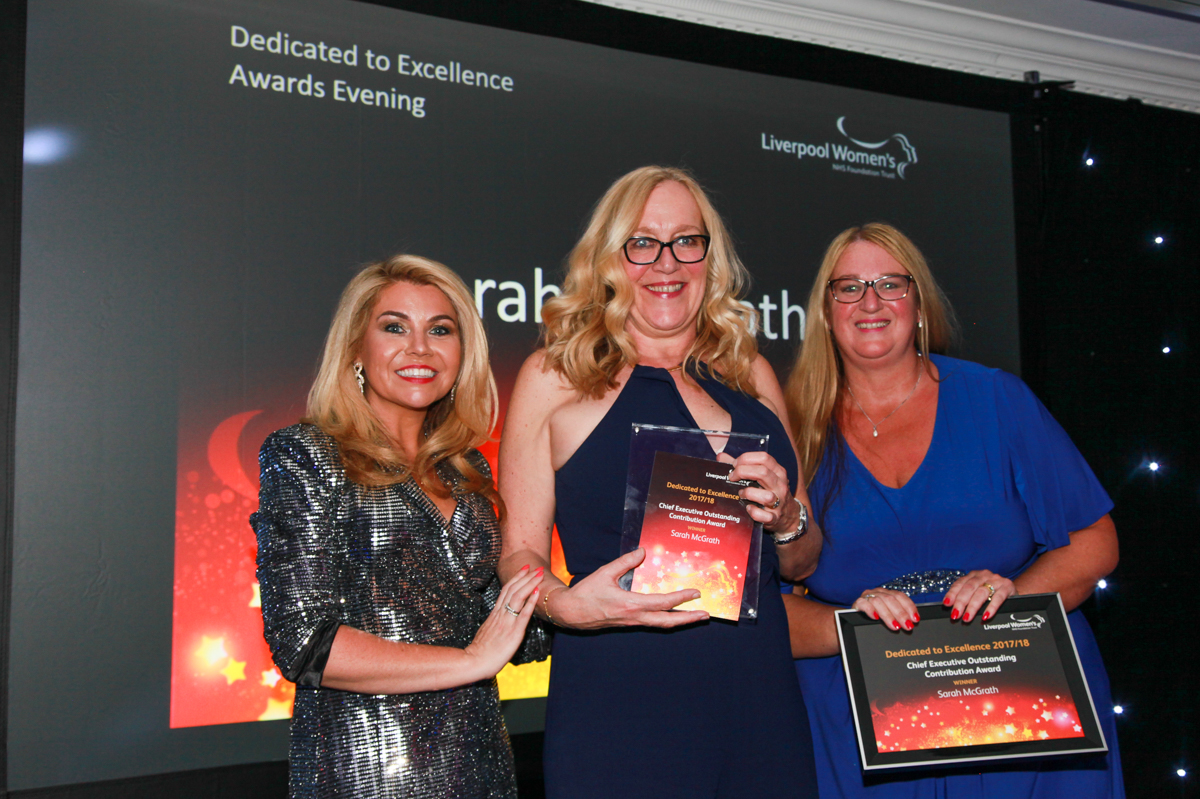 Finally amongst the series of amazing nominees and winners, one particular award was of notable significance on the evening…This year will mark the 70th anniversary of the formation of the NHS and in acknowledgement of that, the Trust wanted to mark the milestone by handing a special 'NHS at 70 Chief Executive Outstanding Contribution Award' to someone who has had a career that embodies everything that the NHS stands for.
Clinical Director for Neonates, Dr Bill Yoxall has worked at Liverpool Women's Hospital for over 20 years and continues to show the same compassion and consideration to his work and the tiny premature babies he cares for as he did on his first day.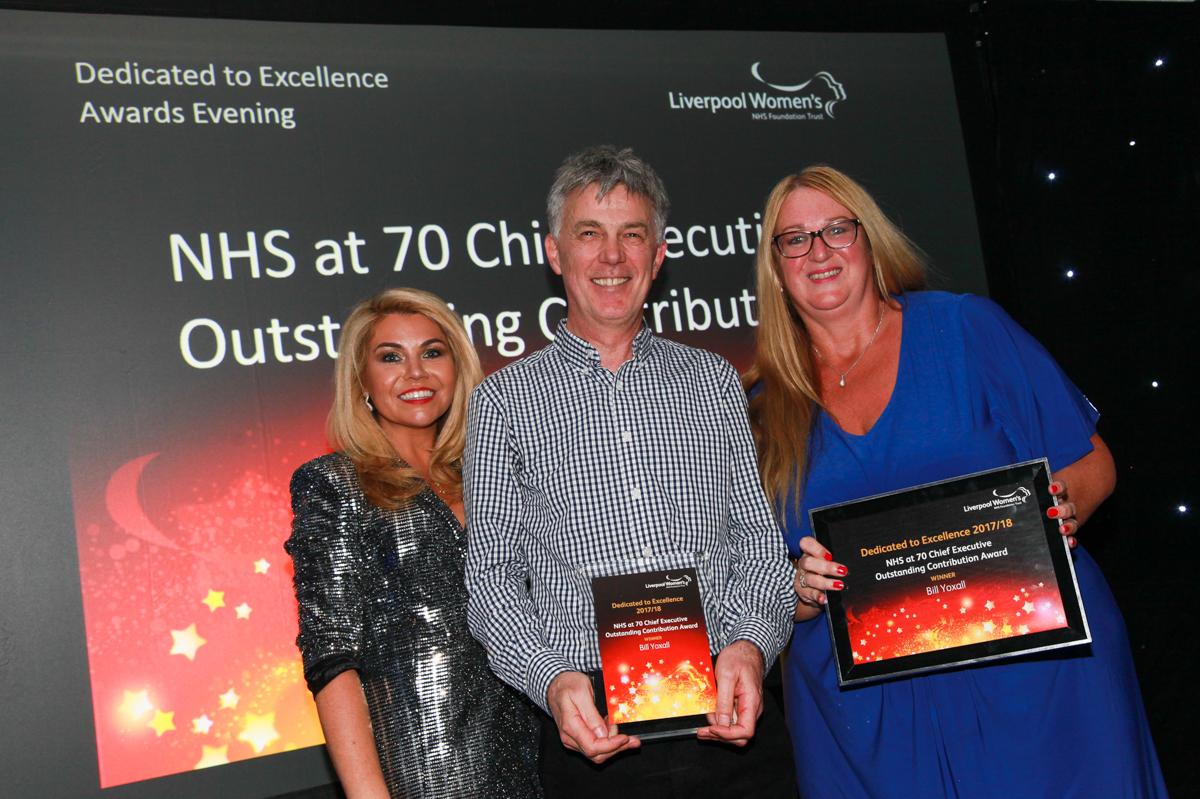 When presenting Dr Yoxall with this momentous award, Kathryn Thompson said; "Bill has worked at Liverpool Women's for over 20 years. His career and research work has had an impact across the region and I have seen him consistently go above and beyond in the interest of his patients. Bill is unwavering in his support to staff, working in a very busy and complex part of Liverpool Women's. It is both heart-warming and at times heart wrenching when you witness the interactions that he has with families and it is an absolute pleasure to work with him. He is very much liked and respected by everyone at Liverpool Women's, particularly the families who entrust the tiniest of our babies into his care."
Those in attendance stood from their seats and gave a resounding round of applause as Bill made his way up to the stage.