To mark 'Baby Loss Awareness Week' this year The Honeysuckle Team at Liverpool Women's Hospital invite all bereaved families who have been affected by miscarriage, stillbirth, compassionate induction and early neonatal death, to join them for a service of reflection and hope for all faiths and none on Wednesday 10th October 2018 at St Georges Hall. 
Ticketed event
This years' service is a ticketed event, families wishing to attend need to please complete the online remembrance service request form here.
A maximum of 4 tickets will be offered per family, if you require more please include details on the form, names will then be placed on a waiting list.
Once your places are confirmed you will receive an e-ticket, this will be sent to the email address provided on the form. Once received this will include all details of the service, please keep it safe as it will need to be shown on arrival.
If you would like your baby/babies name to be read out during the service please include the required details on the form.
If you are unable to attend the service this year but would still like to request your baby/babies name to be read out please complete the form with the required details.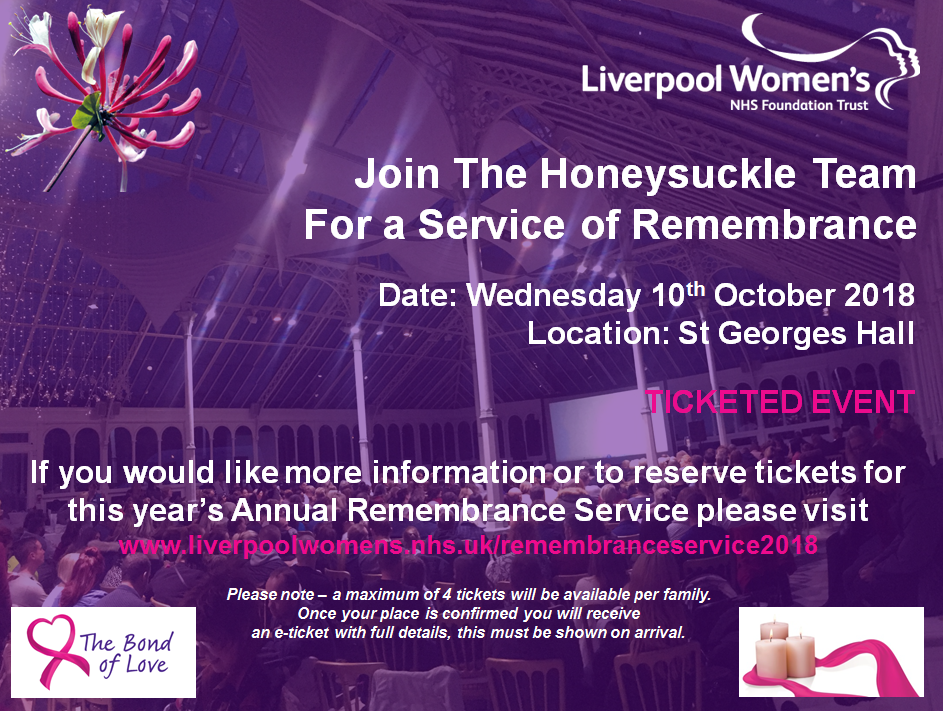 If you would like to attend this years' service, please complete the Remembrance Service online ticket request form.
Wave of Light – Monday 15th October 2018
Also join our international 'Wave of Light' on Monday 15th October at 7pm. Wherever you are in the world, light a candle and let it burn for an hour, in doing so it will send a wave of light around the world to remember all our babies.
Share your pictures with us on social media using @LiverpooolWomens with the #WaveofLight.