To mark 'Baby Loss Awareness Week' this year The Honeysuckle Team at Liverpool Women's Hospital invite all bereaved families who have been affected by miscarriage, stillbirth, compassionate induction and early neonatal death, to join them for a service of reflection and hope for all faiths and none.
This year's Annual Remembrance Service will be held on Wednesday 11th October 2017 at the Isla Gladstone Conservatory, Stanley Park, Anfield Road L4 0TD, the service will commence at 6:30pm and registration of babies names will begin at 5pm.
Please be aware that the release of balloons will be prohibited at this year's remembrance service due to environmental factors.  As an alternative there will be a mass bubble release. You are welcome to bring along your own bubbles.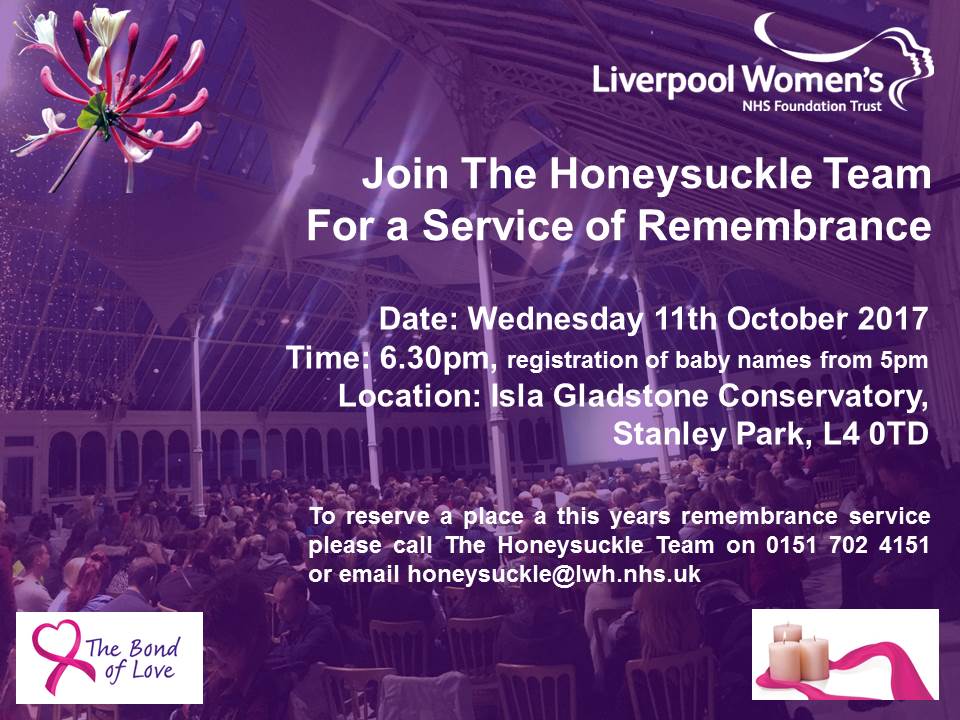 If you would like to attend please contact the Honeysuckle Team at Liverpool Women's on 0151 702 4151 or email honeysuckle@lwh.nhs.uk, providing your details and the number attending with you.
Also join our international 'Wave of Light' on Sunday 15th October at 7pm. Wherever you are in the world, light a candle and let it burn for an hour, in doing so it will send a wave of light around the world to remember all our babies.
Share your pictures with us on social media using @LiverpooolWomens with #WaveofLight.