Come and join us...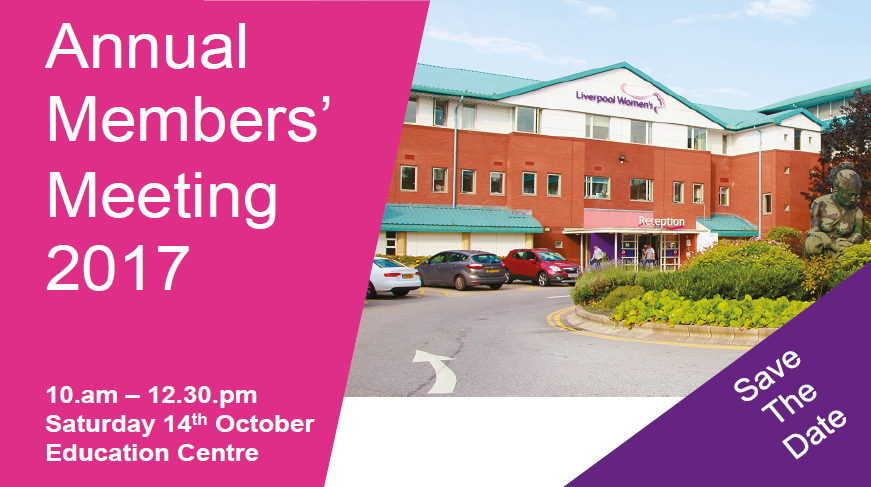 Your invitation to attend Liverpool Women's Annual Members Meeting (10am -12.30pm Saturday 14th October)
Patients, staff and members of the public are invited to join us for our Annual Members' Meeting 2017 on Saturday 14th October from 10am. Please come along with family and friends and meet our friendly staff to find out what has been happening at Liverpool Women's and what some of the plans are for the future.
As well as being welcomed with a complimentary breakfast on arrival at 10am, you will get to:
Hear about our recent achievements
Find out about our exciting plans for the future
Ask our staff questions about the things that matter to you
There will be a marketplace accompanying the breakfast buffet from 10am featuring information stands with a range of staff from services across the Trust present to talk to attendees. The formal Annual Members Meeting will take place from 11am-12pm. This will be followed by an opportunity to ask the Board of Directors questions about the items discussed during the meeting, before the event ends at 12.30pm. Please note that times may vary slightly on the day.
Start your weekend with us. Breakfast and refreshments will be available before, during, and after our Annual Members' Meeting. There will also be activities and entertainment for children so please feel free to bring them along too.
All Trust members and members of the public are welcome to attend. There is no need to book a place, just make a note of the time and date and come along on the day.
The event will take place in the Blairbell Education Centre in the main hospital building. We look forward to seeing you.